Lips
In a very confusing twist, Maybelline released a Colorsensational Vivid Matte.
The thing is… they already have a Colorsensational Vivid Matte!
Ok, for the sake of my readers, I'm going to call the them as "Black" (the older of the two lines), and the "Silver" the relatively new of the two and the one I will review now. These terms are based on their respective tube colors – one's black and one's a chromatic, silver-ish.
As you can see here: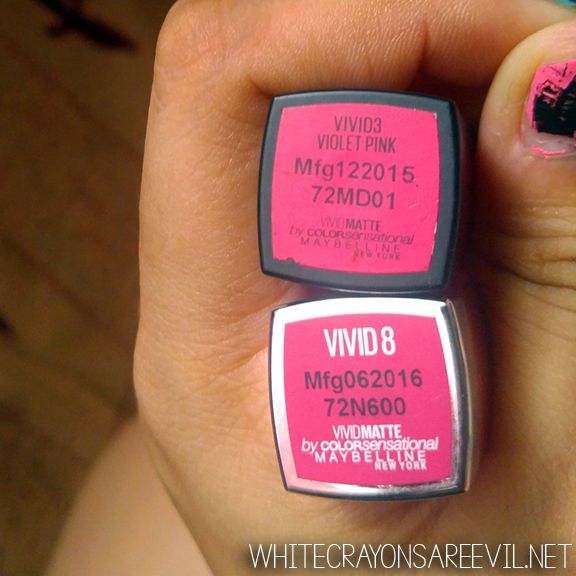 The bottom one is the newer of the two, and I already wrote a review on the Black one way bavk. A quick summary: I was not a fan.
Aside from the color of the tube, the one thing noticably different between the two was that the shades of the Black have their respective names, while the shades under Silver only have numbers.
I honestly have no idea what's the difference between the two. I sent a message to Maybelline PH's Facebook page but I have yet to recieve a reply.
Anyway, like Black, Silver also sells for P299 each. It was on sale at BeautyMNL and I was really curious what was Black's difference with Silver so I ordered one shade.
I got Vivid 8, a magenta.
The cap of tge tubes are also similar. They're literally interchangable.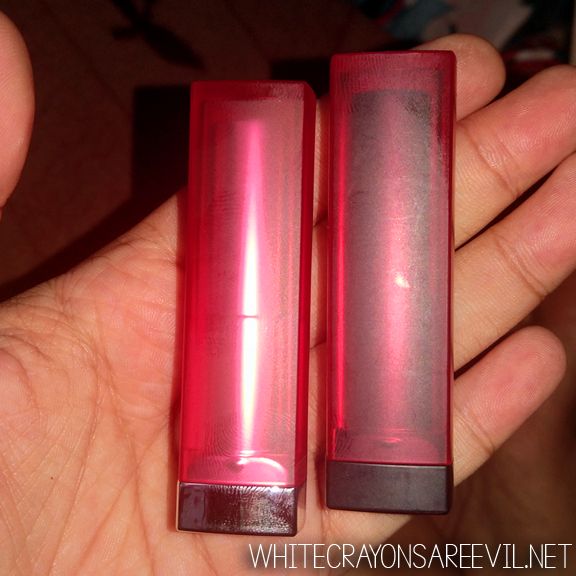 So here's a side-by-side look at the actual lippies:

As you can see, the Black looks lighter and pinker than thr Silver which is really plumy.
However, look how VERY SIMILAR THEY ARE: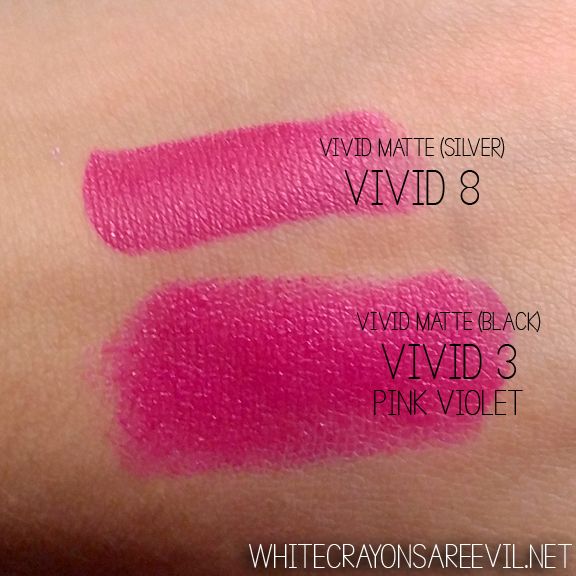 Practically a dupe but they're literally from the same brand and they're literally the same price. Heck they're technically both under "Vivid Matte".
Lastly, the actual lip swatch. You be the judge:

My thoughts
Again, I'll have to wait for Maybelline's explanation, but I am not seeing a very significant difference between the two lines – if in fact they're different.
I liked Silver better only because I dont like Black. For starter, Silver does not smell as bad as Black. Black's smell is the worst.
Black's a TAD BIT more vibrant. The difference is not significantly noticable. I have to stare at the lips for maybe 5 minutes to arrive to that conclusion.
Silver leaves a stain on your lips even after hours of wear. The stain's not that vibrant, but it's helpful specially if you're on the go. You need not worry about not having color on your face.
If I were to choose, I'd pick Silver only because I can't stand the smell of Black.
Do you want me to feature a particular lippie here on Lippie Tuesday? Leave your suggestions at the comment box below. Please do check out my other Lippie Tuesdays here 🙂