Thai Food
,
Travel
This is a part of The Bangkok 2016 Series of blog posts. Please click the link to access the rest of the entries 🙂
Taste of Thailand was kind enough to take us on the Bites and Sites in the Village of Love food tour in Bangkok.
Unlike the tuktuk tour we had the night before, transfer from one place to the other requires the use of our feet. Yep, we walked through the whole tour, which I think was quite charming since I was able to appreciate the surroundings more.
Although there were tons of walking, it was not tiring at all since we didn't have to walk that far from Place A to Place B.
Our guide, Miss Bella met us at the bottom of one of the BTS stations. We were there early, and she was already there. We just needed to wait for the rest of the group.
It's fascinating that there were only six in the group, excluding Miss B, which made the whole tour rather intimate.
The tour is called aptly called bites and sites in the Village of Love because we toured Bangrak Village, which literally means Village of Love.
Of course, what's a thai food tour without…
Thai Iced Tea
YAAAAAAAAAAAS!
We have minimal access to thai teas here in the Philippines so this excited me so much since I LOOVEEE iced teas of any kind. I think the closest I have tasted similar to the taste of authentic thai teas were the ones we tasted at Ninak in Kapitolyo, but the teas we tasted at Bangkok were a tad bit stronger.
I LOVE THIS!
Narrow streets' hidden secrets
After that, we walked through the narrow streets while Miss B explained the dynamics of Thai food to us. I have an impression that usual thai food are spicy, but I learned on the tour that they're more than that. Thais SUPER love sweets and explosions of flavors!

Our first food of the tour: yummy fishcake!
We also stopped by a curry paste shop. Oh boy, was it very aromatic. I have a new-found love for curries and spicy food because of this Bangkok trip.
Green curry. There's my bebe love
Traditional Desserts
After walking some more, we found ourselves in a sweet shop, and waiting for us were these traditional thai desserts:
You see that black stuff? That's squid ink. AS DESSERT! It was really interesting and very yummy (all of the sweets, not just the squid – although that one was my personal favorite).
Gimme them fruits!
We were also brought to this fruit shop and we tried various fruits. You see, I also live in a tropical country and tropical fruits are very much accessible to me, so let's just say that this is a so-so part of the tour.
Although, this was the first time I tasted a tamarind which was not sour. It was actually really yummy.
Before that (or was it after), we were also brought to a wet market. Again, this not something that fascinated me because I literally live near two wet markets.
The drink's good for you, tho
We then went to an institution – a family-owned grocer of some sort which now runs for several generations. It had that Chinese shop aura found in Binondo. It was very familiar.
We were also made to taste a drink which apparently was very good for your health.
How did it taste?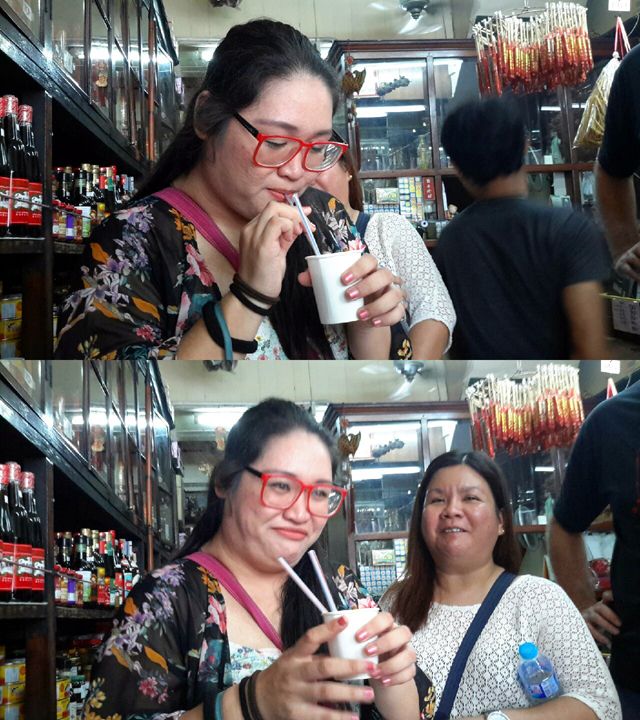 Read it on my face.
Yup the drink was sooooooooooooo bitter. Like my heart.
You know me guys, I hate anything bitter (that's why I hate ampalaya with all my heart). So this was a hard pass for me.
It was quite an experience though. The reaction of the group on the drink was very consistent.
GOOD THING we were given a bottle of this after. There were tons of choices of flavores but I settled for this. Because… pink.
And IT. WAS. DELIGHTFUL.
Roasted Duck and Dumplings = <3
We found ourselves inside a very unassuming place, like a typical old chinese resto found in Binondo.
While waiting for our food, Miss Bella made us smell various spices and herbs and it was really amazing to the olfactory. It's interesting how the typical thai dish was deconstructed by Miss B through its ingredients and the smells of these ingredients. Needless to say, I have a new-found love for lemongrass and that cousin of ginger which smelled more intense than ginger.
It's weird but this is my favorite part of the whole tour.
Of course this was not really a stop without the roasted duck and the dumplings. M and I shared these bowls:
The roasted duck was super tasty, and the dumplings were savory. It's a shame that I was kind of full at this point (and I was expecting that there will be more food) that we were not able to finish the soup of the dumplings.
Some more food!
Indeed there were more food. At around lunch time, we stopped as another hole in the wall resto, where tons of local from a nearby establishment (I'm not sure if it's a university or a government office) were eating.
I think this meal made me LOVE thai food. I liked it before, but I LOVED it after this. I think what fascinated me was how tasty they are – with an explosion of spice and sweet.
Somehow Thai food has tons of similarity to the food back at home. We Filipinos also LOVE flavors and spices. AND SWEETS. Which I think is the reason why I found Thai food rather appealing. Because it tasted like home.
(of course there are tons of difference – we love greasy food, and food with sarsa (sauce), and there's a great Spanish interest in cuisine. But… you know… the fact that there are explosions of flavors is similar)
The Royal Cuisine
Our last stop was this fancy place, Than Ying Royal Cuisine. Miss B explained that members of the royal family own this restaurant.
We were served a curry dish with rice. It was, of course, very tasty. I don't remember it be very. very spicy like that of my new love green chicken curry, but I remember it to be very flavorful.
And to cap off this very satisfying tour was a coconut ice cream! YUM!
My thoughts:
Full Disclosure: M was given a complimentary tour for two and I was her plus one AKA the lucky friend. We were not obligated to write positive-only reviews. I was not expected to write anything at all (I don't think they know the existence of this blog). All opinions are my own 🙂
This tour costs Tbh 1,200 per person which I think is pretty worth the half-day food tour. This, of course, includes the cost of the food you are to eat.
I think what made this tour a smart choice for tourists was that the some food are well hidden within the streets of Bangkok, which M and I would not have known about if we were to explore the city ourselves.
The meeting point was very easy to find since it's at the foot of one of the BTS station.
I love the variations of the places the tour took us – from the streets, to the curry paste shop, to a hole in the wall kind of eatery, to the fancy restaurants.
It was also rather educational. They say you learn about a culture through their food, and we sure learned tons about the Thais. It's fascinating how Miss B explained things to us – she was very engaging.
Please please PLEASE come hungry. You'll do yourself a favor.
You can check out Taste of Thailand's website here and read more on their other tours 🙂