Lips
This is part of my recent 2016 Sephora Bangkok haul.
First and foremost, please do pardon my nails on these photos. I took these literally hours after we landed from Bangkok. So……. there's my excuse…?
Sephora Collection: Cream Lip Stain in Watermelon Slice. This took me back Tbh 470, minus 5% because of the Sephora Card magic (which I still don't understand).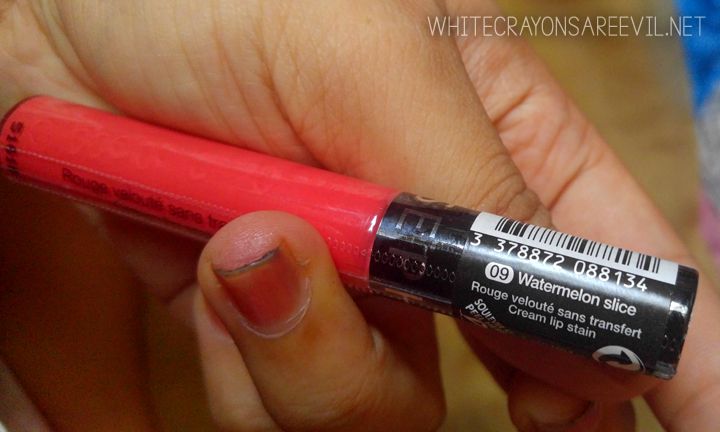 According to the SephoraPH website: Available in an array of rich shades, this high-coverage stain is contains avocado oil for a texture that transforms as you wear it from creamy to silky and lightweight. Lips achieve stunning, high-pigment color and feel soft and comfortable all day.
The wand's nothing spectacular. Just a regular wand.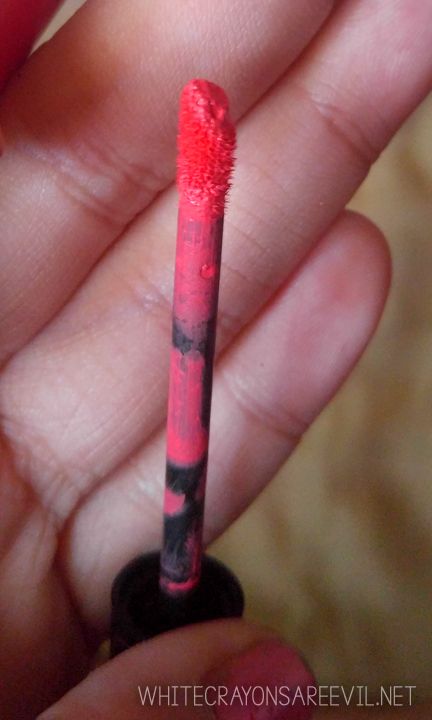 Color's stunning, and pigmentation is vivid. I really like this color, Watermelon Slice.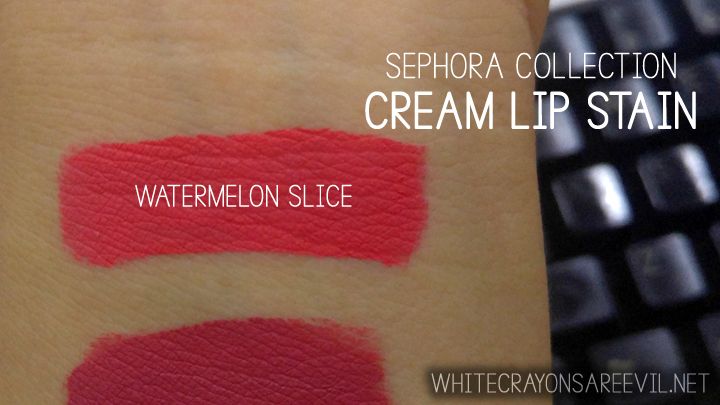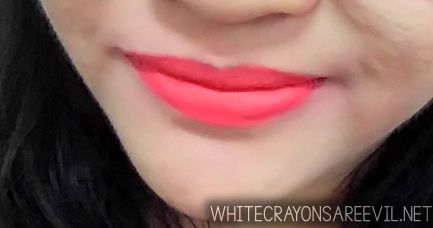 My thoughts:
Watermelon Slice is a stunning color. Did I mention that already?
This Sephora lippie is SOOOOOOOOOOO much better than the other Sephora lippie I bought.
The claim on it's website: as you wear it from creamy to silky and lightweight. Lips achieve stunning, high-pigment color and feel soft and comfortable all day. – I would say that this is true. Unlike most matte lippies, this does not feel bothersome. It does not feel moisturizing, but it's not uncomfortably drying as well. Lightweight is a good term for it.
There were days that this applied smoothly, and there where days that this looked really patchy. Hence, the quality of the lippie depends on the condition of your lips. So I can't stress enough how important it is to moisturize and exfoliate your lips.
It is also important to not over-apply it. As you apply more, there's a tendency that the product on your lips will be thicker, hence will look very weird when it dried down to matte. It would look like dried cement. Not a good look.
Longevity is decent. It may seem like it would crumble away, specially since the formula dries down to powder-ish matte, but it did survived my morning coffee and lunch. A round of applause.
I love the smell, but it might bother some people. It's sweet – very vanilla-ish and cupcake-ish. Vanilla Cupcake-ish. Please forgive my lack of descriptive words. The scent is very comparable to that of Nyx Soft Matte Lip Cream and a watered down smell of Revlon Ultra HD Matte Lipcolor.
Lucky for us nation with no physical Sephora store, these babies are available online at Sephora PH for Php804. It's less expensive in Thb if you convert it (Tbh 470 = Php 611, if Tbh 1 = Php 1.3).
Will I buy this again? Perhaps on my next visit abroad, or I could ask some friends for a favor and buy this on the physical store.  don't think I would spend Php 800+ for these, so either I'll wait for a sale, or wait for a physical Sephora Philippines store. Please bring Sephora to the Philippines huhuhuhu
Plug! L finally opened the doors to her beauty blog! Yehey! Please do check out her out at RolandKarla.com. She's much more knowledgeable on makeups than me, and also takes better photos of swatches. Go give her some love 🙂
Do you want me to feature a particular lippie here on Lippie Tuesday? Leave your suggestions at the comment box below. Please do check out my other Lippie Tuesday here.