Travel
This is a part of The Bangkok 2016 Series of blog posts. Please click the link to access the rest of the entries 🙂
In the past couple of years, M and I had experienced riding tricycle on our tours – the tricycle tours in Vigan, Laoag and Pagudpud and the tricycle tour in Siquijor.
This year was no different.
Well, actually there are tons of difference. For starter, our ride for this tour could not be called tricycle anymore (although it technically was).
We painted the town on a tuktuk *happy dance*.
Also, we did it when the sun was down *happier dance*.
We were lucky enough to experience Expique's Bangkok Night Lights Tuktuk Tour.
M and I met with the tour group in one of the BTS stations (I remember they were very easy to spot). Our group of tourists was composed of six individuals. I liked that it was very intimate.
After some brief introduction, our guide Net directed us to three tuktuks at the bottom of the BTS exit. each tuktuk carried two passengers. The tuktuk was slightly larger than the tricycle here in Manila so it was infinitely times more comfy. PLUS! – get this – the roof of the tuktuk was transparent so we were able to enjoy the night tour to its fullest (because… hello night sky!)
A quick story on our guide: while introducing herself, Net told the group that her name's Internet because we can ask her anything. I was literally waiting for a punchline. Turned out, Thai names are extremely hard for tourists specially the westerners to remember so they come up with their own nicknames. It was quite fascinating, actually. I LOVE Net, BTW.
Anywaaay. I don't think I'd want to detail each and every destination. It was part of the whole experience which I think ia better left experienced than read 🙂
Here are some photos, tho.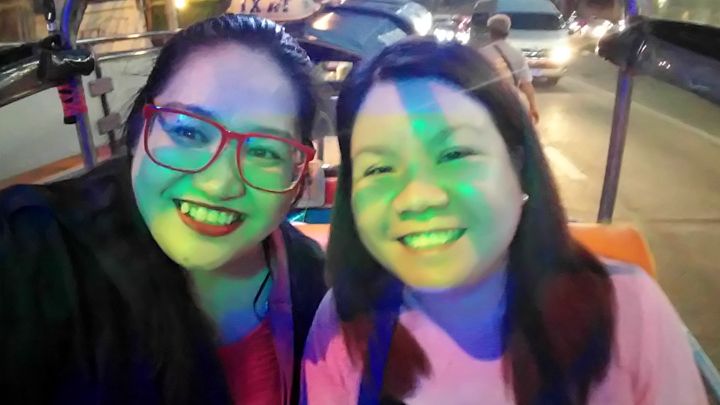 OFF WE GO!!!
Klong San Market and Chao Phraya River
Our first stop for that night was a night market. It looked like a cleaner Divisoria- the street Divisoria ha, not the 168 or 999 malls.
Everything was so familiar, though, probably because Thais kind of look like Filipinos. Also, Divisoria.
We were also treated to our first food for the night.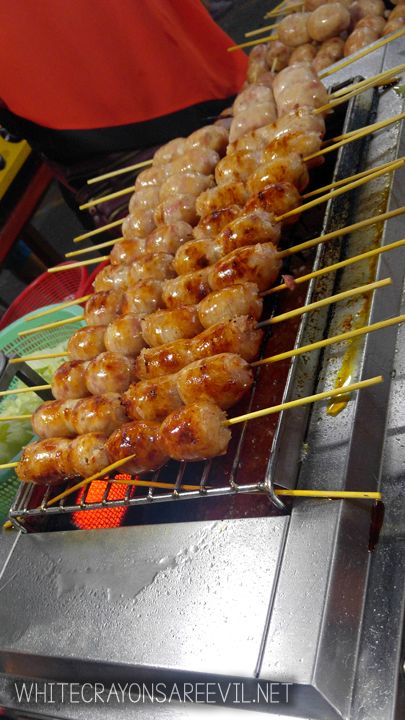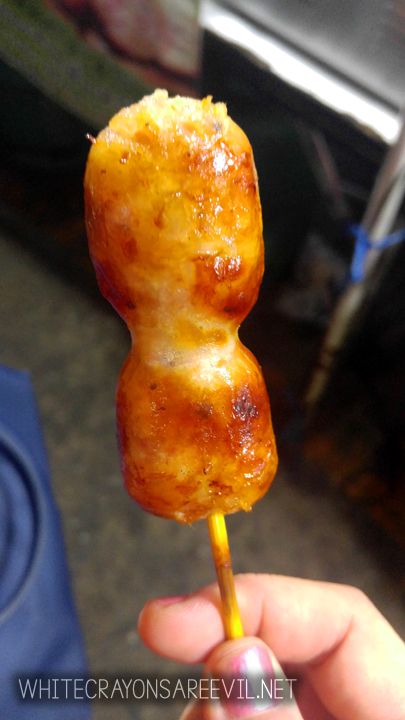 They remindedme of longganisa, but the first bite proved that they were in fact very different. There were rice or noodles inside! M and I shared the 'original' and the 'sour'. I liked the sour one – it had more personality.
Our group then walked to a pier.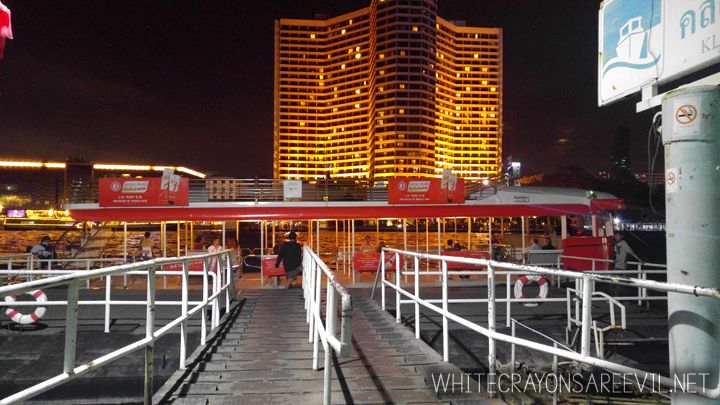 These water vehicles transports people from one side of the river to the other. Actually I loved the fresh air near the river. Also, Net's knowledge of the place (and the way she explained it) was very engaging.
Wat Prayoon
Then we were off to Wat Prayoon, our first temple.
The sight of our first temple that night made me look at temples a new way – at night, with beautiful lights. Fascinating, TBH.
Net was explaining how lucky we are that night because a portion of the compound where the temple was located was opened to the public, which apparently does not happen very often.
Yey!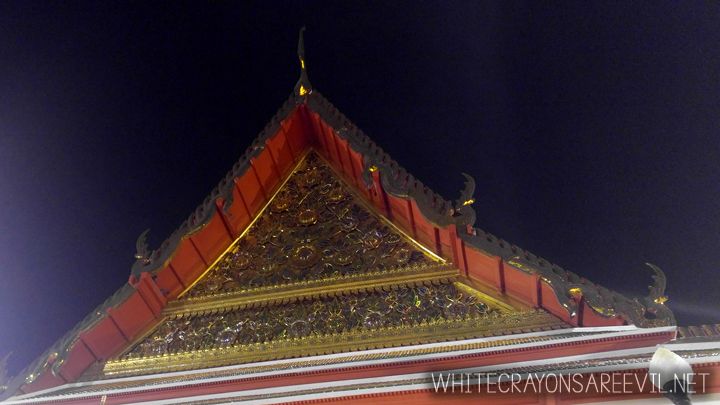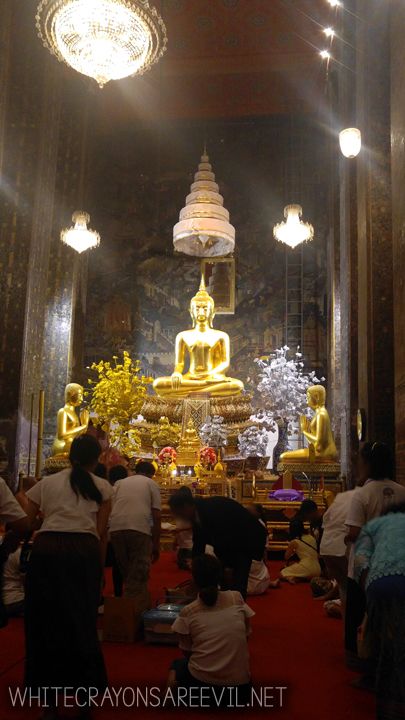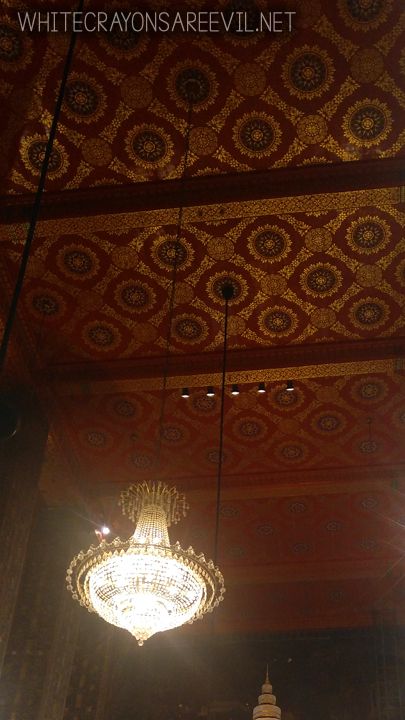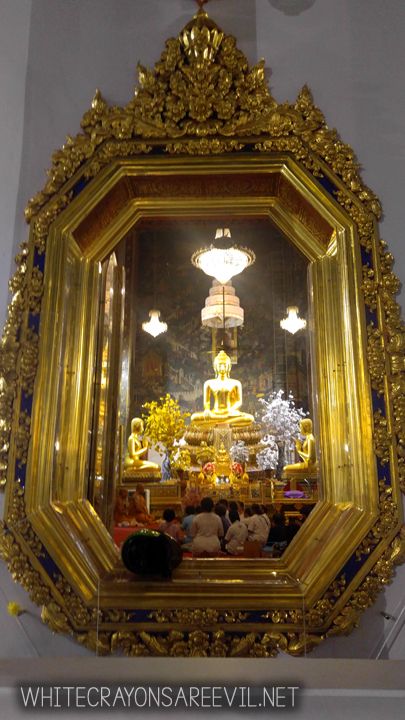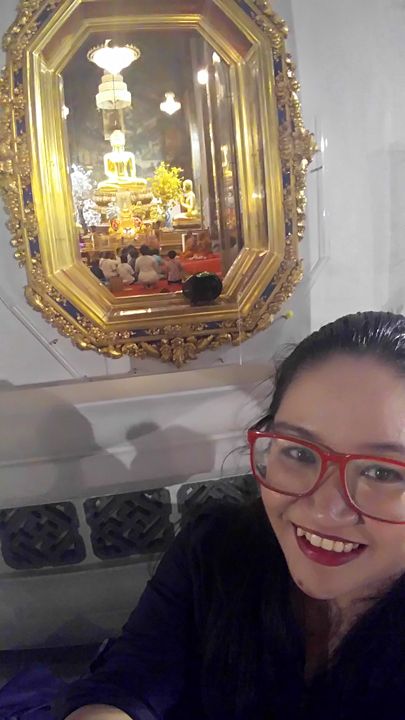 The Giant Swing
Then we stopped at this wonder.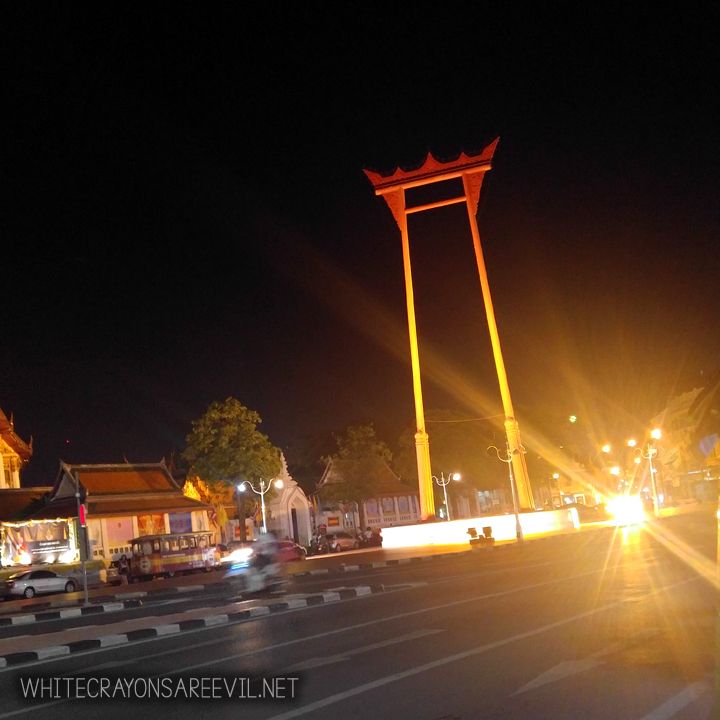 It was an ACTUAL swing! I found the history behind this structure very fascinating.
Best Pad Thai? Thip Samai
Now, something for the stomach. Net then brought us to the quote unquote best Pad Thai in all of Bangkok.
The line to the resto was CRAZYYYYY. Good thing Expique had someone waiting in line for us so we needed not wait ourselves. Plus one for efficiency!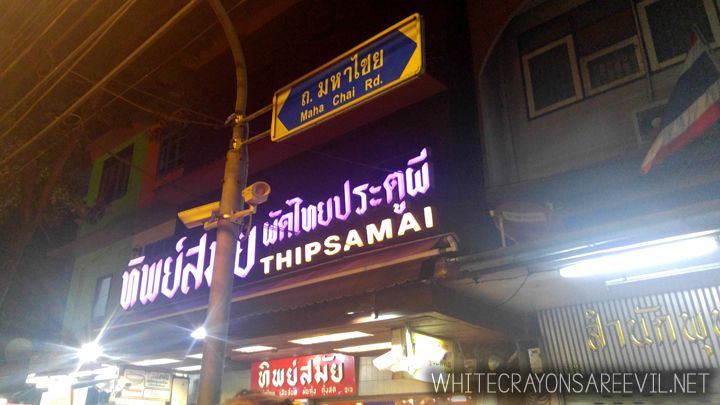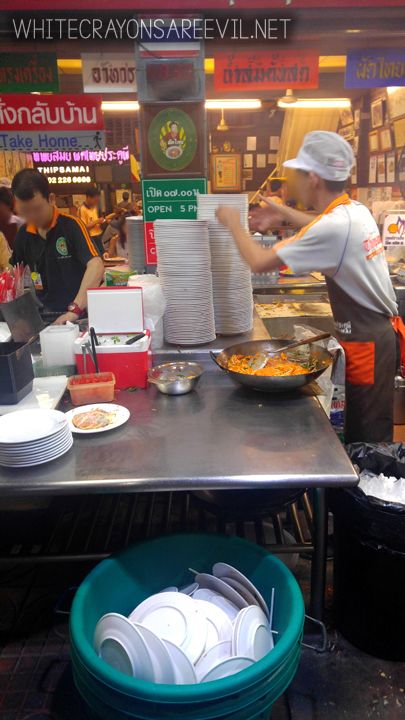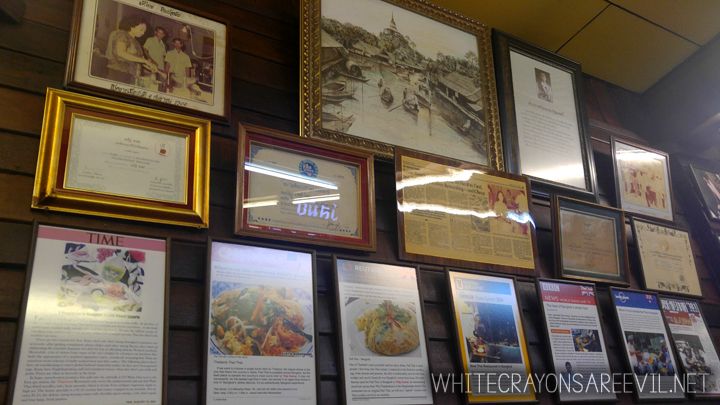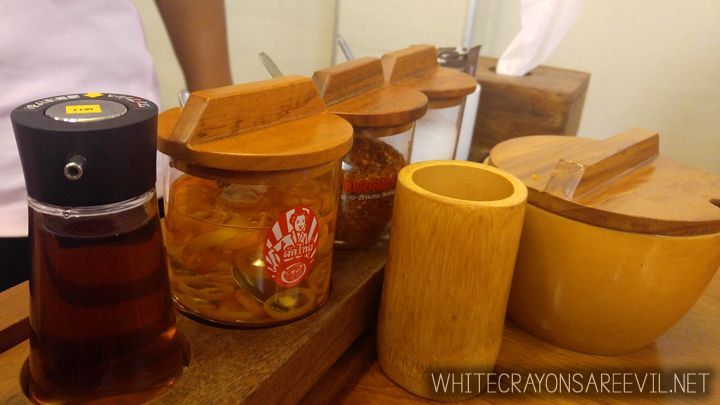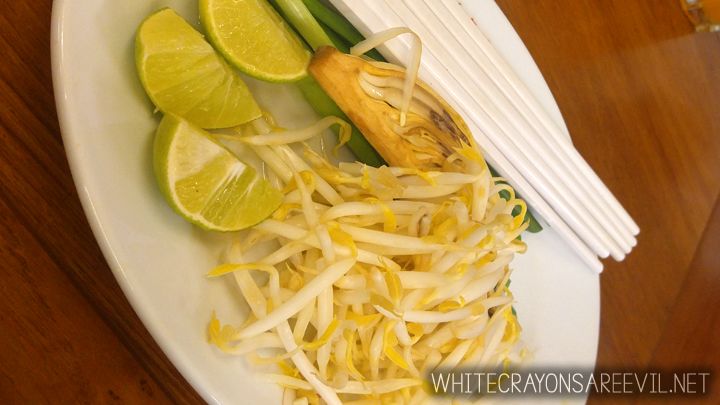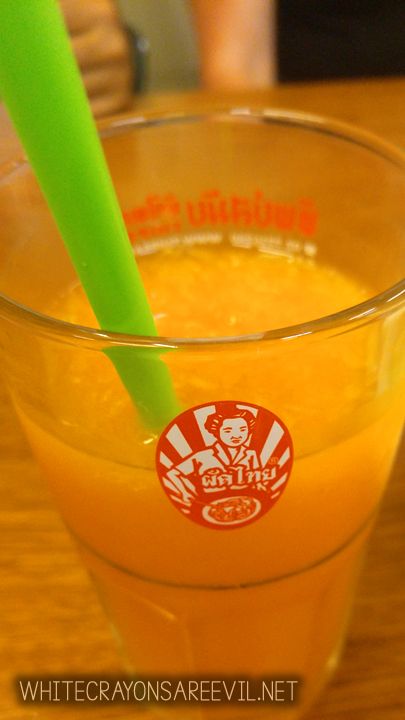 I don't know what the writings say, probably "The best orange juice you will ever taste in your entire life" because it was.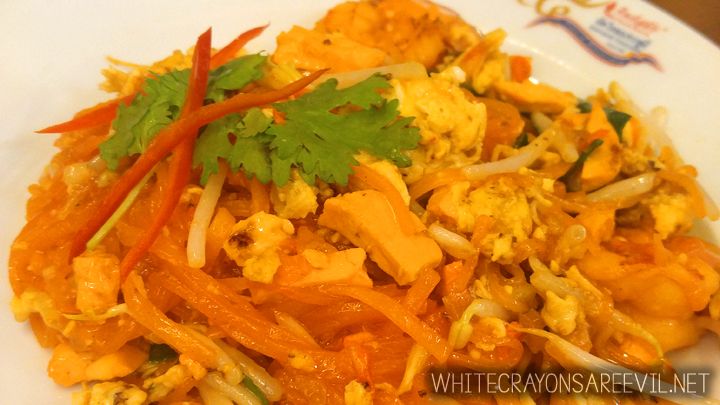 The star of the night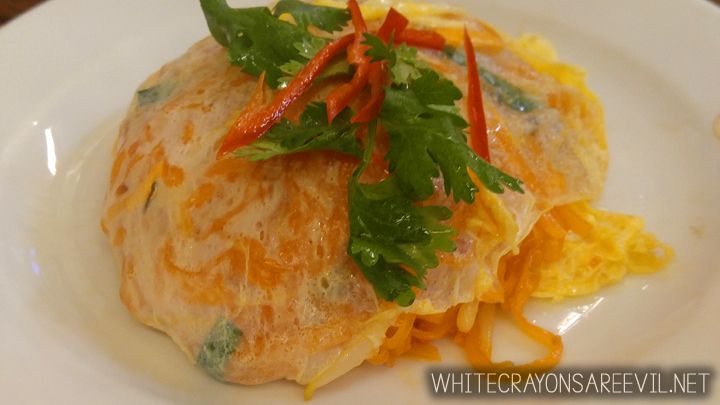 The star of the night – but wrapped in egg
Was it the best Pad Thai in BKK? I have no idea since I only ate these pad thais while in Bangkok (I know, atrocious!).
But if you ask me, yes, they are worth falling in line for a long time for.
can you tell how we feel about the place, tho? And yes, that's the line!
The stalls next to the Thip Samai offered some desserts. This was a… I can't remember what this was, I'm sorry. I liked it, though.
Edit: these are Thai Tacos, apparently.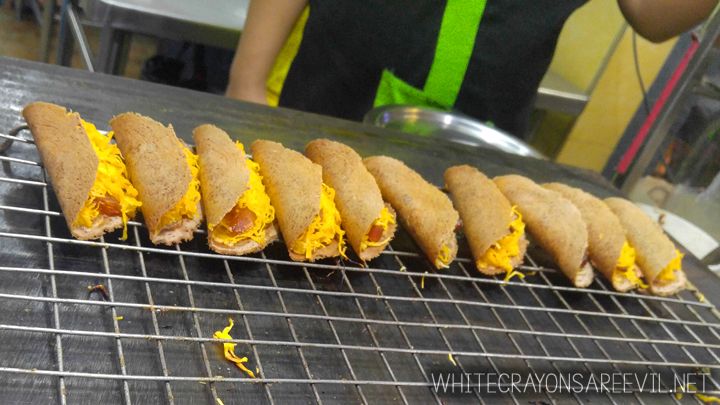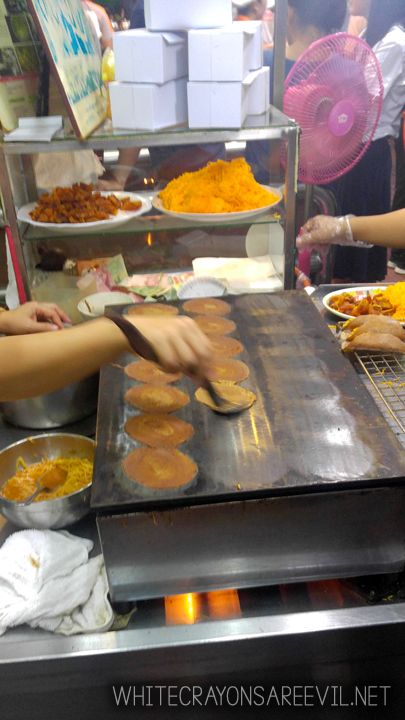 But not as much as I liked the pandan custard. Oh dear God that was good dessert. Sorry, no photos 🙁
Wat Pho At Night
Now, the highlight of my night. Arguably the second highlight of our Bangkok visit (this was the first).
The tuktuks took us (see what I did there?) to the very tourist spot-ish place, the Wat Pho. The place houses the Reclining Buddha. Because since it was already night time, some places at the compound were already closed, and we were only able to access limited spaces.
But wow, was it very much enough.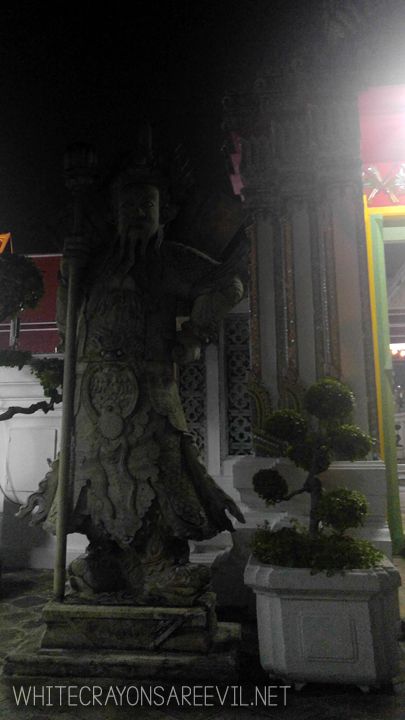 Almost there…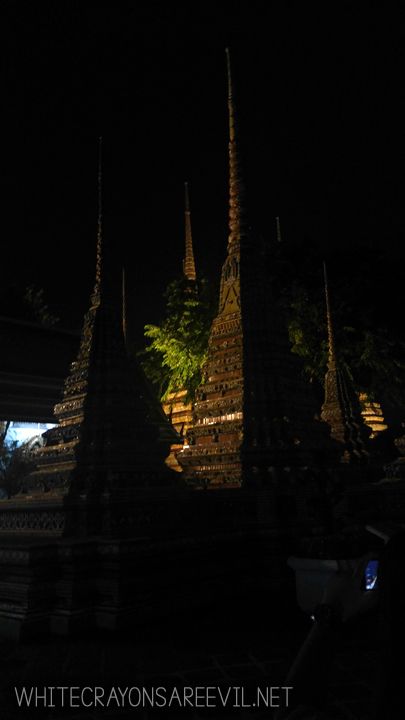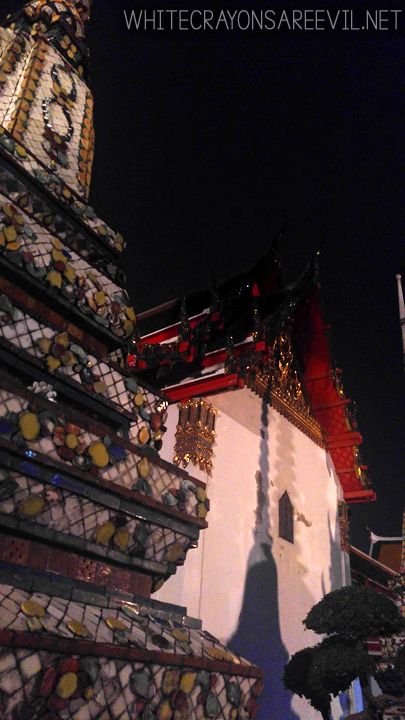 BEHOLD!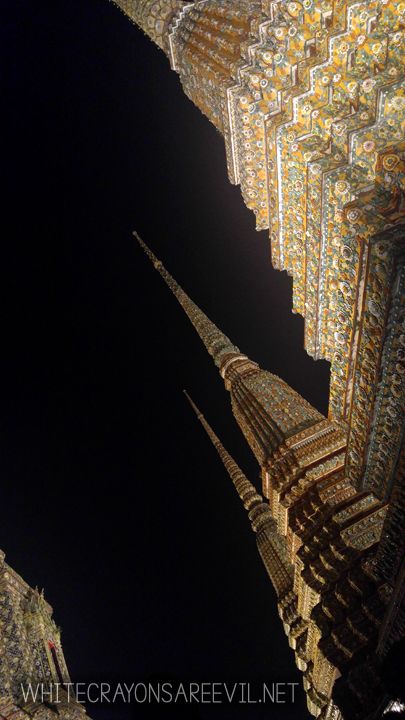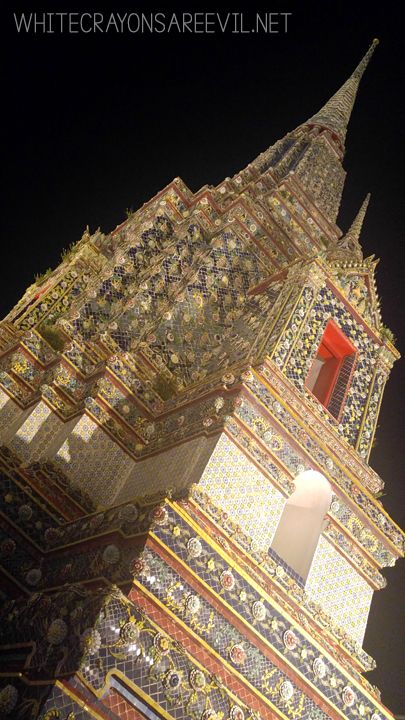 The beauty of these stupas during nighttime would not even translate to any of the photos. It was simple remarkable. When I first saw these stupas, I was soooo dumbfounded. I had the same experience when I saw Spoliarium for the first time. It's like you can't really describe it and appreciate its beauty at the same time. You have to first appreciate the beauty, then calm down, then describe it.
These stupas were majestic beyond words.
Learning their background was even more remarkable.
(L) tho the picture is blurred, I would like to state for the record that that's me;
(R) YES MY FACE IS STILL NOT SHOWING BUT THAT'S STILL ME. I WAS THERE. DON'T DOUBT ME!
Some other places: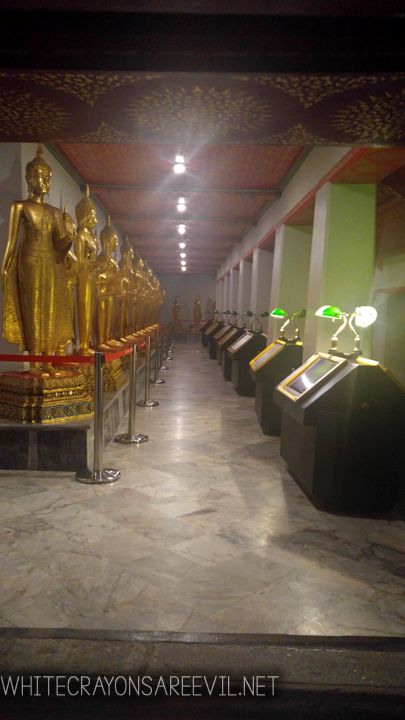 From what I understand, there was a time when a certain Thai King collected all the Buddha images and here they were.
There was also an area in Wat Pho with these on the walls: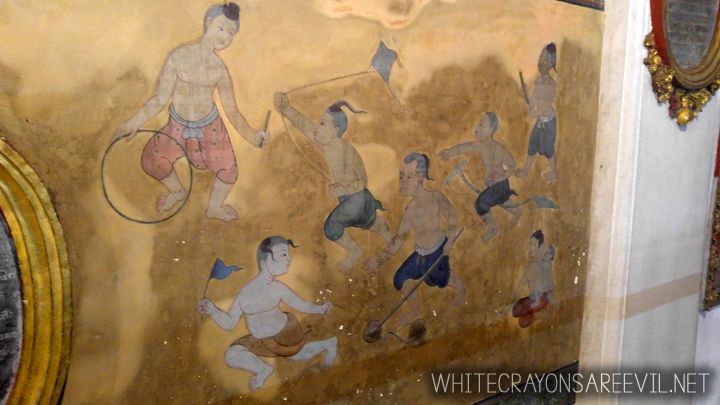 Net explained that these are massage techniques or something. COOOOL!!!!!
The Flower Market
We left Wat Pho and went to the very colorful flower market. Yes, after the majesty of old structures, let's take in some beautiful flowers next.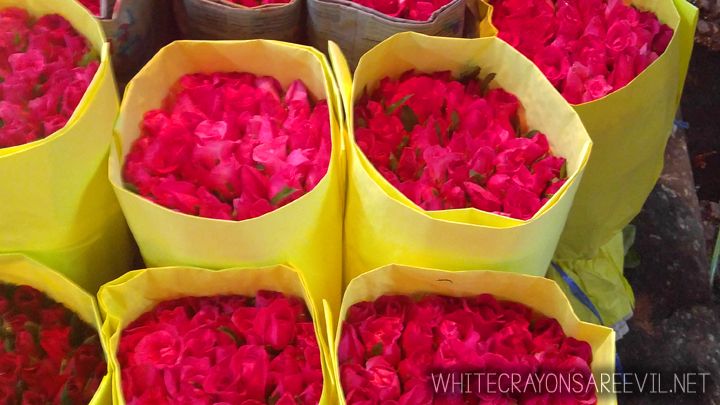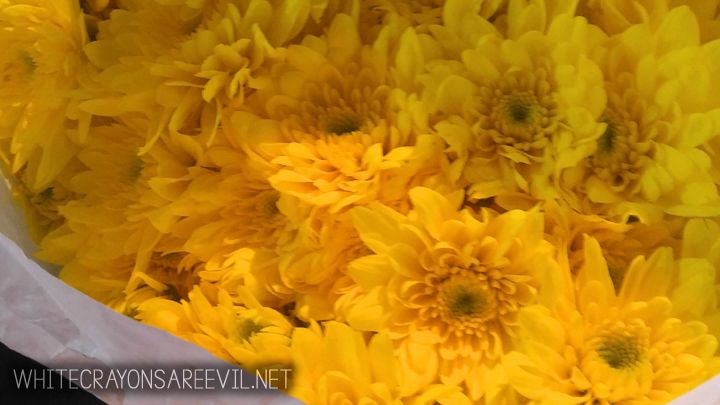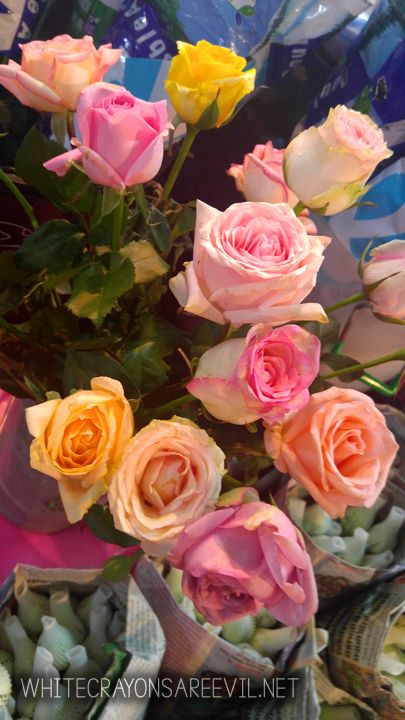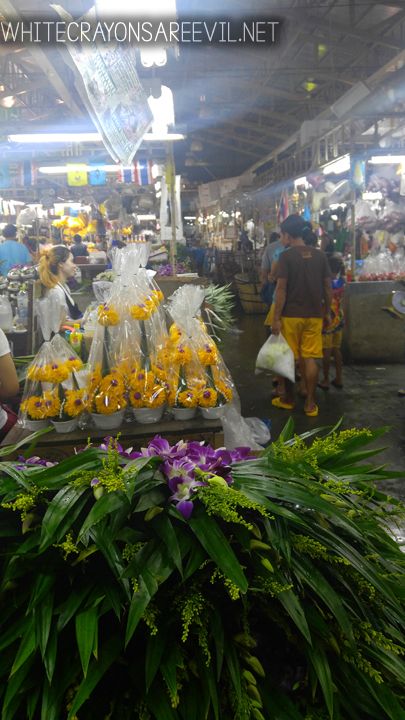 Last Dessert At Chinatown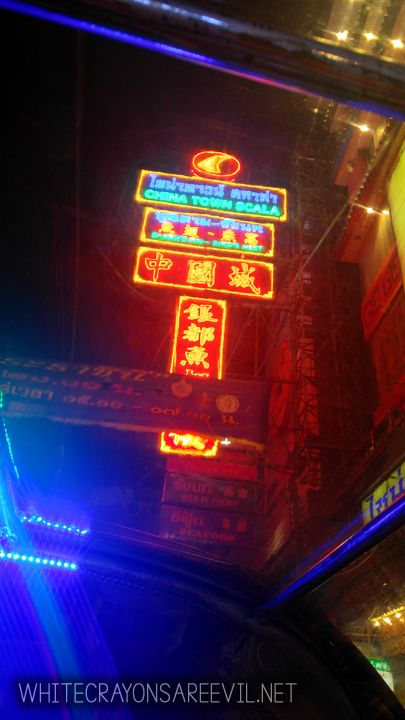 Thank you, transparent roof, for this picture 🙂
For our lasts top, we went to a dessert place in China Town to grab a dessert – mango with sticky rice.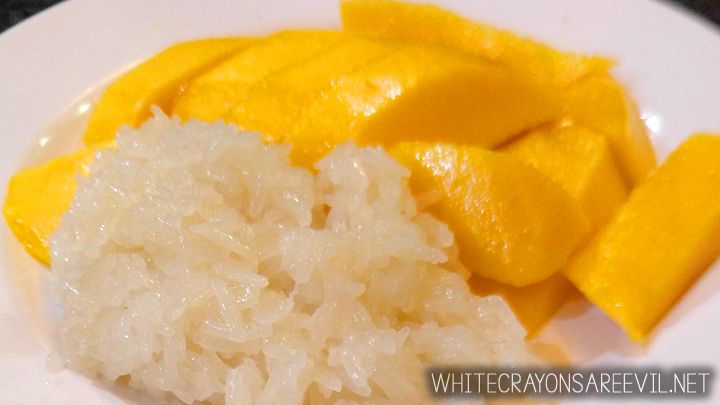 For some strange reason, M and I were the only ones who finished our serving of the dessert, probably because everyone thought that the meal was heavy because of the sticky rice.
It felt very light and dessert-y, to be honest. Although I would like to point out that our mangoes are waaaay sweeter and delightful but maybe I'm just biased #TeamPHMangoes
The end. Sad face.
After the tour, Net asked us how we'll go back to the hotel, and offered that our Tuktuk will take us there for Tbh 150.
Um…. yes please! (because it was not that expensive and also very convenient and fun).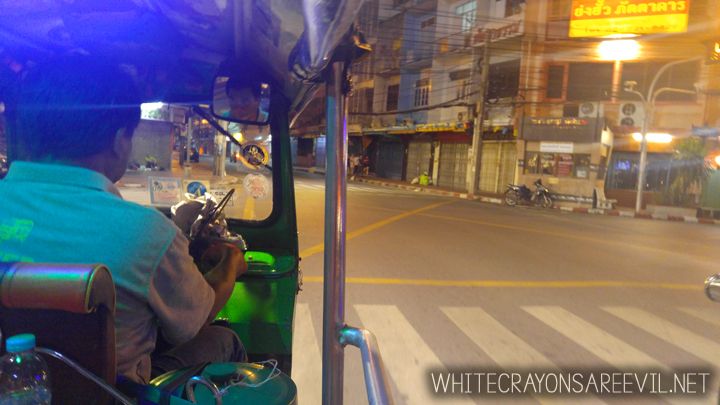 My thoughts:
Full Disclosure: M was given a complimentary tour for two and I was her plus one AKA the lucky friend. We were not obligated to write positive-only reviews. I was not expected to write anything at all (I don't think they know the existence of this blog). All opinions are my own 🙂
I HIGHLY recommend this Expique tour. Sure you can do the tours yourselves, but I think the whole highlight of the tour was Net explaining the histories (among others) of the sites/sights we saw.
I also liked how very attentive Net and even our Tuktuk driver were. We were each given a bottle of water at the start of the tour, and again at the middle (with a disposable cold, wet towel). Needless to say, the whole tour was very comfy (but it wasn't raining then. I really can't say if the same could be said when the weather's different)
I guess what made this tour very personal, aside from the very small number of participants, was the interaction with the guide. It was like Net will describe a detail of Thai life or some Thai customs, and she would ask "how about in your country?" so, you know, the knowledge will expand outside Thai, to the culture of the other participants. Also, Net seemed really interested with other cultures, it's fun to share Filipino stuff with her.
Click here to visit Expique's website. Check out more about their other tours there 🙂