Thai Food
,
Travel
This is a part of The Bangkok 2016 Series of blog posts. Please click the link to access the rest of the entries 🙂
For our first authentic Thai lunch, M and I enjoyed a couple of meals at Miss Siam Restaurant in Hua Chang Heritage Hotel.
Enjoyed being the operative word.
Miss Siam Restaurant is a modern-designed resto inside the hotel with much space. Large windows adored the vicinity, which created a brightly-lit room.
I think the best part of Miss Siam was the servers were very attentive and all-smiles, and the service felt very, very personal.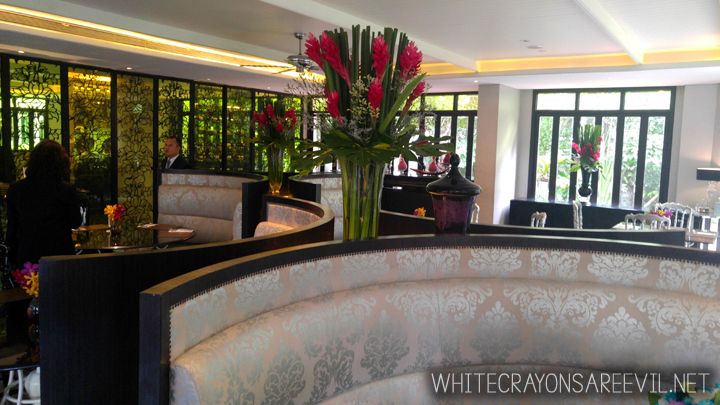 Anywaaaay, back to our lunch.
M and I were presented with two kind of Thai Set: The Chaba and Champa. We were told that chaba and champa are flowers.
Ok, so before we started, Ms. Annie asked if we enjoy spicy food. Enthusiastically, I said yes. Doubtful, M said not really.
I think it's important that you remember that anecdote.
CHABA THAI SET MENU (aka M's meal)
(Tbh 700)
Appetizers
Crispy Thai noodles; Chicken stuffing in eggs net; Golden bag with lotus seed fillings
Soup
Spicy prawns soup with lemongrass, chili and lime juice
Main dish
Thai papaya salad; Grilled chicken; Rice noodle with garlic oil; Stir-fried mushroom with oyster sauce; Beef massaman curry; Stir-fried glass noodle with crab meat; Deep fried fish cake; Steamed jasmine rice
Dessert
CHAMPA THAI SET MENU (aka my meal)
(Tbh 600)
Appetizers
Steamed Thai dumpling; Crispy crab spring roll; Crispy rice cracker with minced pork in coconut dip
Soup
Chicken in coconut soup with young galangal
Salad
Prawns salad with fresh lemongrass
Main dish
Crab meat mousse with coconut served crispy fish; Chicken green curry; Crispy fried dried fish, squid and salted egg; Fried pork with garlic and peppers; Shallow fried morning glory with oyster sauce; Steamed jasmine rice
Dessert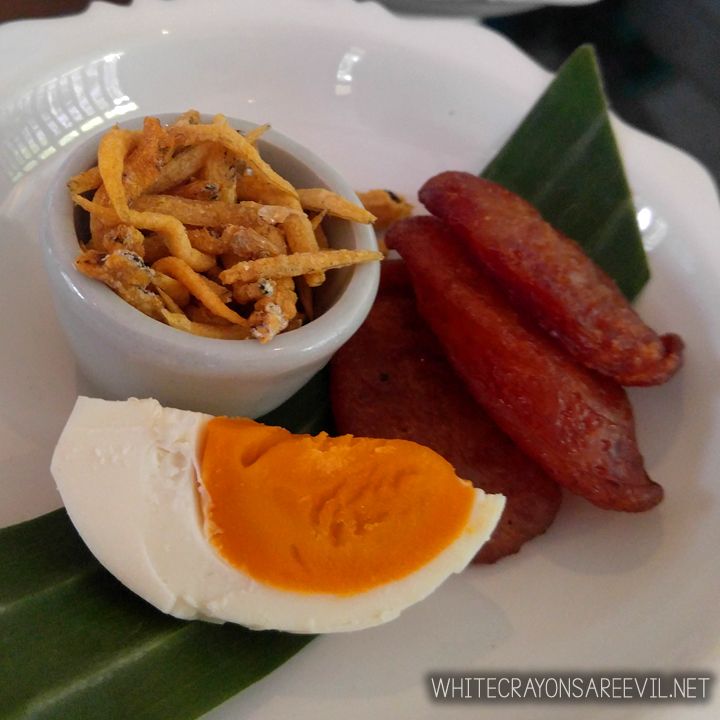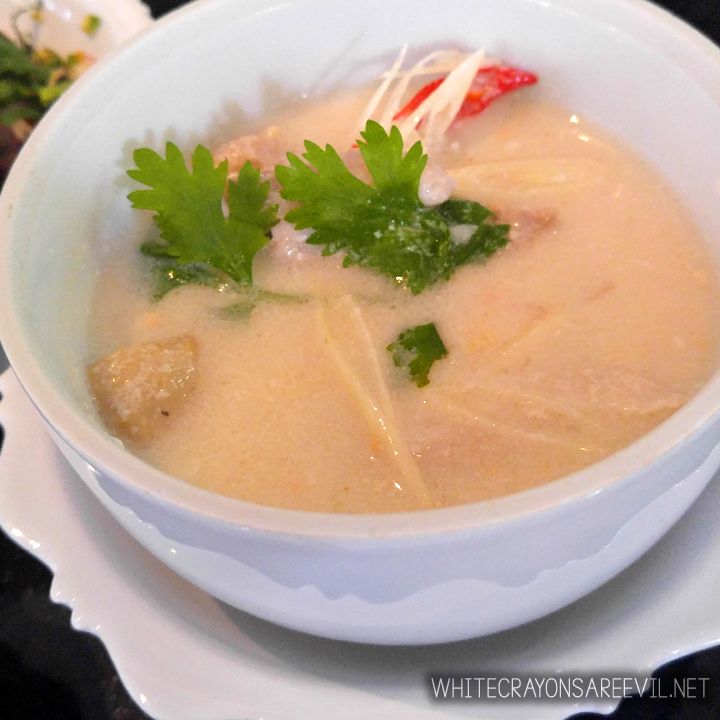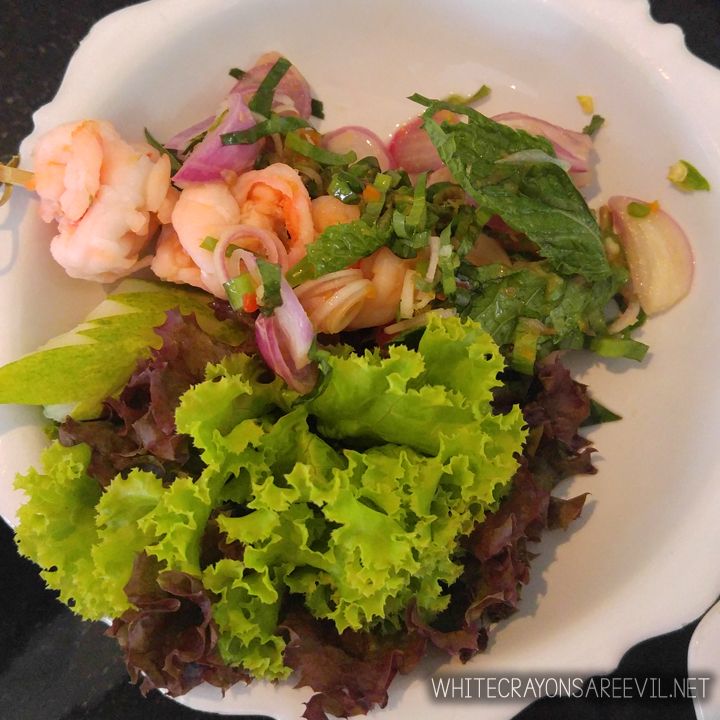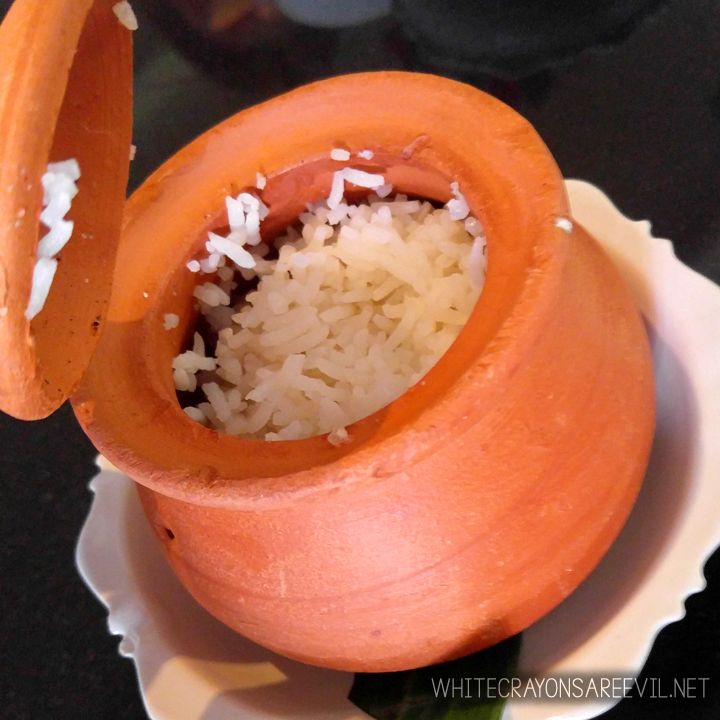 My thoughts:
My first thought when these were laid on our table was "oh, these come in tiny servings. These will not really fill our stomach up, right?" WRONG!!!! It may seem like these were collection of sample-size Thai food, but I swear to you, I can barely walk after eating. I was soooo full after (and there was only a small pot of rice!). How even?
Remember my anecdote in the earlier part of this post? Well, apparently, almost all my food are super spice. But I honestly have no complain. I mean, where else can I taste authentic Thai spices, right? Of course in Thailand. If you go to Thailand and avoid the spicy food then you're missing 90% of the experience. Plus, the spiciness of the food added to the personality of the meal. It was indeed very glorious.
That being said, their Chichen Green Curry WAS LOVE. OMG. It was sooooo spicy, but in a savory, flavorful and enjoyable way, not the hurtful way.
Also, the special coconut dip (last picture) WAS THE BEST THING EVER. It was the first thing I tasted in the whole meal and I was in love immediately. It was sweet, and the texture was very light. Sigh.
You can find out more about these set lunch meals here.
Full Disclosure: M was given these complimentary meals, as well as stay at the hotel for two and I was her plus one AKA the lucky friend. We were not obligated to write positive-only reviews. I was not expected to write anything at all (I don't think they know the existence of this blog). All opinions are my own 🙂