Lips
My swatches of Matte in Detail received lots of love. I was browsing BeautyMNL (as I always do), when I saw that they already carry the lippie brand! Yey! *place to cart*.
Apparently, the brand is called Detail Make Over, and they released more shades from the line.
I got four, but I think they released, like, seven. I'm not sure. I decided against getting all the colors and settled for the more wearable, nude one, as well as the red and darker red for an extra personality.
They finally came in boxes. Not necessary, though.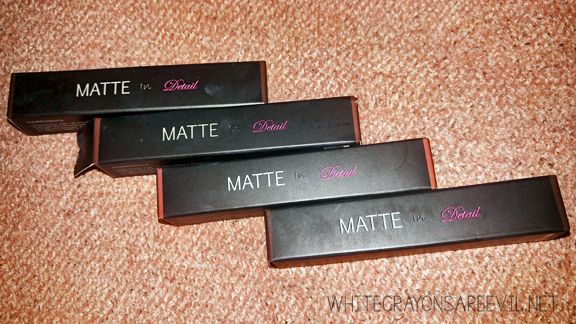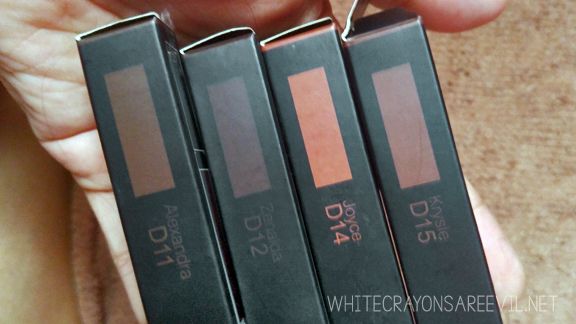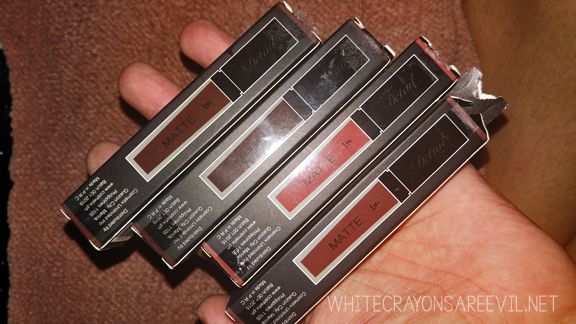 Sorry I ripped the boxes out of excitement when they arrived. Haha
I noticed that the labels/color numbers and names are already located at the bottom, as opposed to the sides like the first Matte in Detail I owned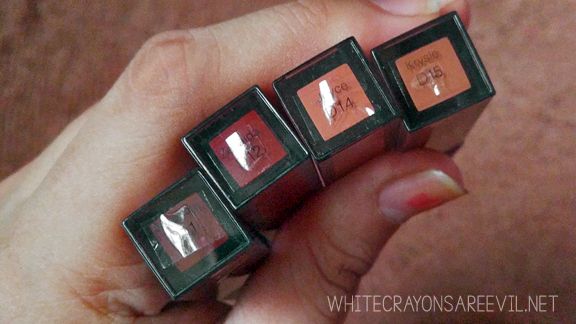 D11: ALEXANDRA
Alexandra is a deep, deep plum boarderline red and brown. This reminds me of Cinnamon Spice by WNW but deeper. This also does not apply evenly as you can see on the swatches. I tried a trick (below), but still, it did not work. probably will not wear this as much since it' super high maintenance.
D12: ZENAIDA
Zenaida is… red. There's nothing really remarkable about the redness of this one, but if I were to compare this to the other red lippies out there, this is among the most longer wearing. This also does not apply evenly as you can see on the swatches. But I figured out a trick! Read below.
D15: JOYCE
I was not a fan of the color the first time I wore it. It looked like a beautiful nude in the tube and on a swatch on my hand, but when I applied it, I uttered "nooope". Its color reminded me so much of… Clean mud? Earthy clay? Those clay made into a generic plant pot? I dunno, there's something weird about the color.
However, after wearing it for a whole day, I am now in love with it. I dunno. I paired it with a poppin eye make up and it just gave my whole look a little oomp. I dunno.
D16: KRYSLE
Krysle is like Joyce, but ashy-er. It's grey-ish. It slightly lacks the color of Joyce. Again, like Joyce I hated it initially, but learned to adore it overtime. I may not be reaching for this color anytime soon, but I'm not mad at it.
Here are some swatches: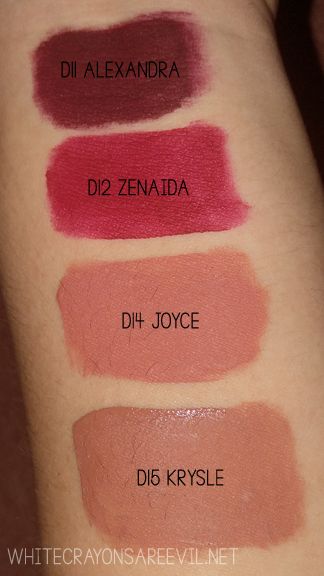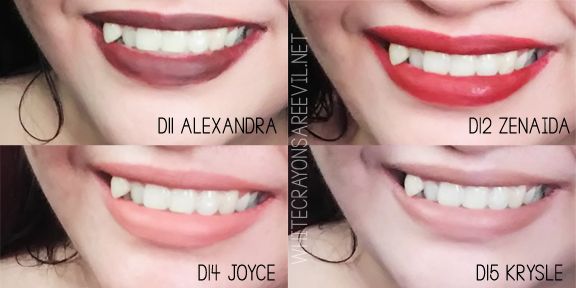 Thoughts?
I think that the new collection is remarkably more wearable – at least the ones I own.
Formula depends on the color. The darker it gets, the more high maintenance it is, as well as the more uneven it applies.
Tip: if you are experiencing uneveness during the application, here's what you do: a.) apply very little amount to your bottom lips. b.) while still wet, spread it by pushing and rubbing together your lower and upper lip c.) the edge of the lips are tricky, so practice first. d.) use tissue to remove excess products (do this when product is still wet!). Remember to move fast since this lippie dries fast!
However, this trick does not work on Alexandra 🙁
Speaking of, some people maybe uncomortable with the dry finish, but it's not as severe are some other liquid lippies. Just remember to apply balm prior to application if you like, exfoliate your lips, and do not apply too much product.
If you're concerned about longevity, this lippie does not budge. It's amazing how I only applied the Joyce and Krysle when I got out of the house in the morning, and I only needed to touch up once and that would last me the rest of the day. The darker shades require more effort to maintain, but they still display really remarkable staying power.
Do you want me to feature a particular lippie here on Lippie Tuesday? Leave your suggestions at the comment box below. Please do check out my other Lippie Tuesdays here 🙂