Lips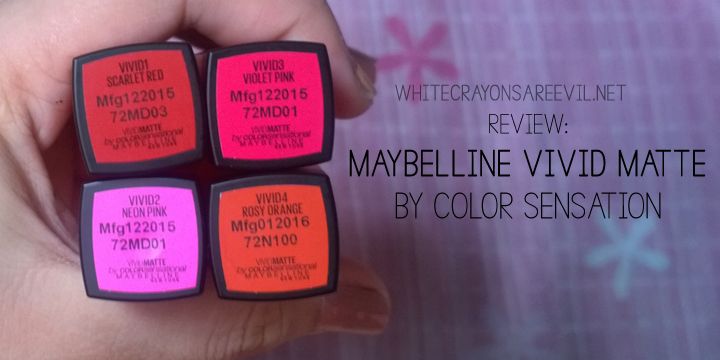 Edit: if you're looking for the Vivid Matte with chromatic, silver tube, please click here.
Maybelline Philippines released yet another line of matte – the Vivid Matte by ColorSensational. Not to be confused with the Vivid Matte liquid lipstick.
The collection came out couple of weeks or so ago I think, and these are sold at P299 each.
Naturally, the smart thing to do is wait for a Maybelline sale.
And naturally, it happened quite soon after the release!
I bought these babies for P199 each. The Vivid Matte line is available in four colors.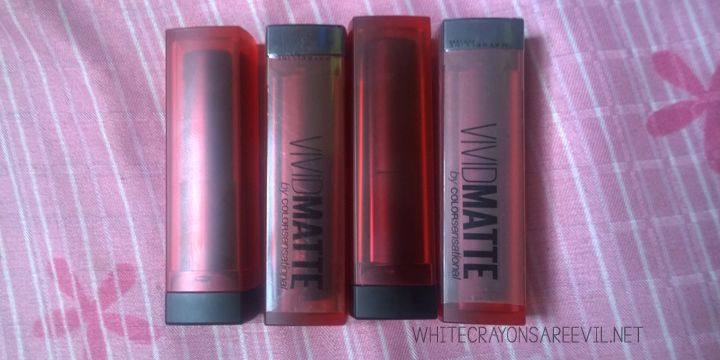 And I got 'em all, *sassy girl emoticon*
SWATCHES: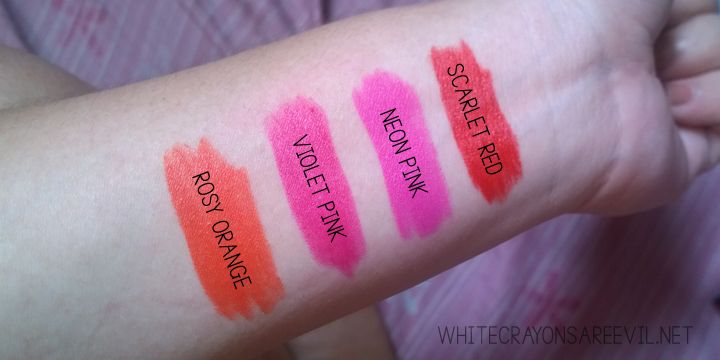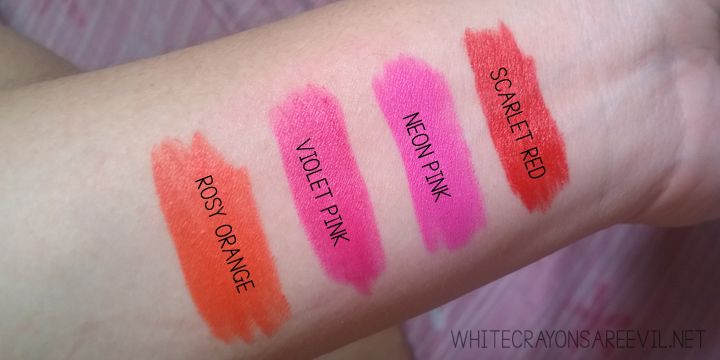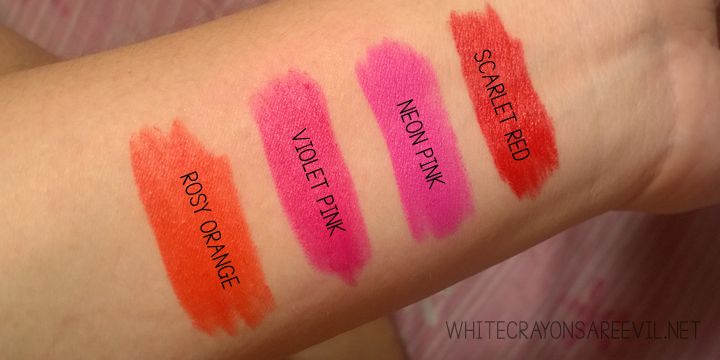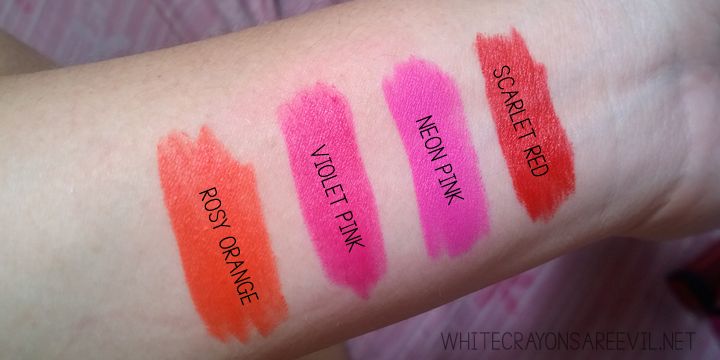 Now here are some individual swatches with some lippies which I think are close to the colors.
And also my face. I will add them as they come. Insert horror sound.
(please pardon my fez if it appeared, err, whiter. The heat in the country right now is UNBEARABLE, so I am wearing the foundation with the highest SPF I own. And that foundation is maybe two shades lighter than my actual face)
Vivid 1: SCARLET RED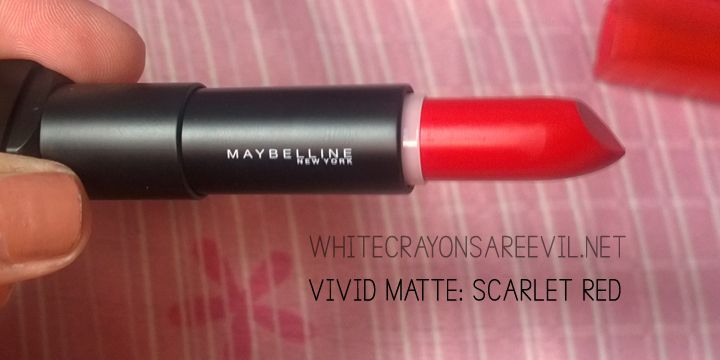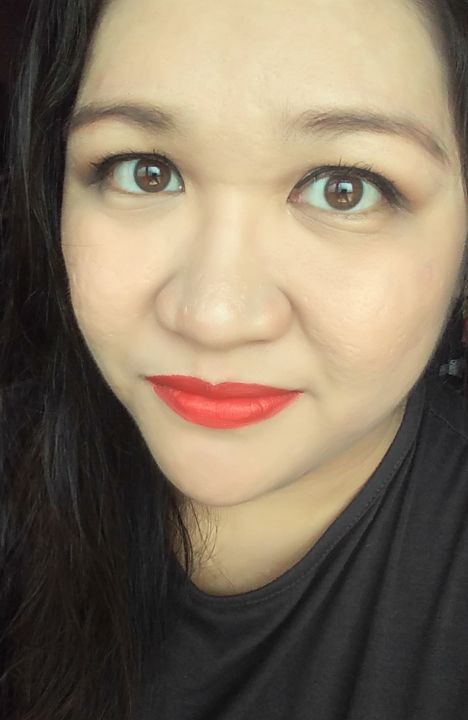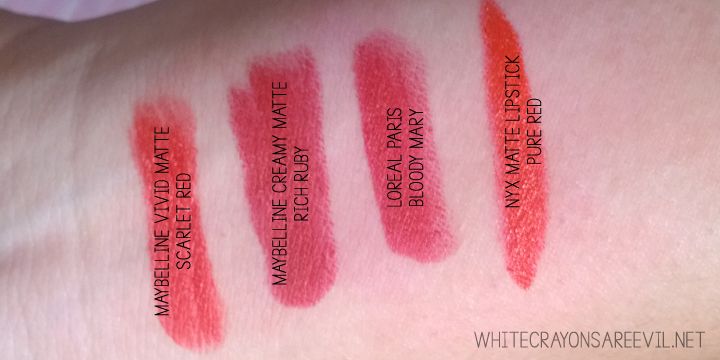 Scarlet Red is a bold red with a coral undertone. It's not deep, and I think it will go well with warm toned skin.
I swatched it next to (Maybelline Creamy Matte) Rich Ruby, which appeared deeper and more vampy. Scarlet red is more of a daytime red. It's MUCH closer to NYX Pure Red.
Vivid 2: NEON PINK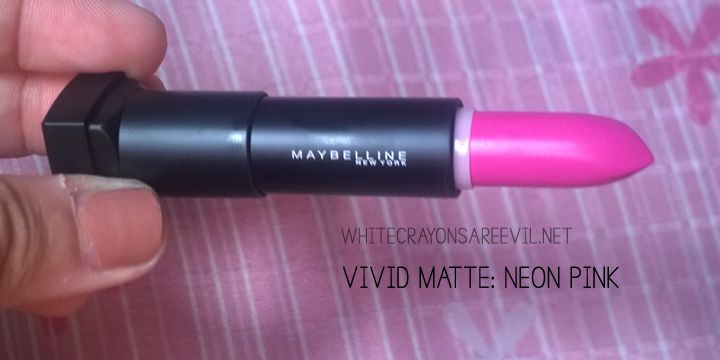 Neon Pink is a pretty unique color in my collection. It is indeed vibrant, but very wearable, and not the Nicki Minaj kind. It's a subtle Barbie Pink, maybe.
Vivid Pink 3: VIOLET PINK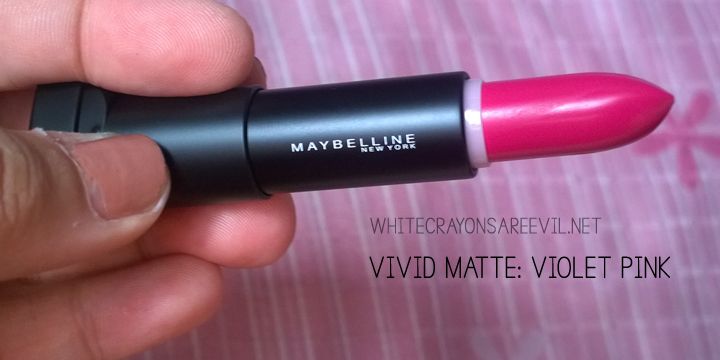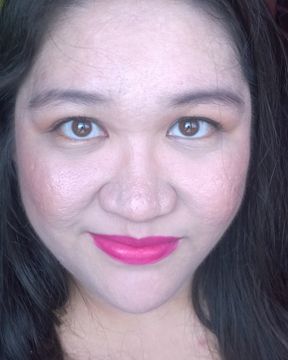 I zoomed in on this color because I thought it looked like (Maybelline Creamy Matte) All Fired Up, my favorite shade ATM.
It's not. As you can see, Violet Pink is more of a light berry color, a tad bit lighter than (Maybelline Creamy Matte) Mezmerizing Magenta.
A pretty color, still.
Vivid 4: ROSY ORANGE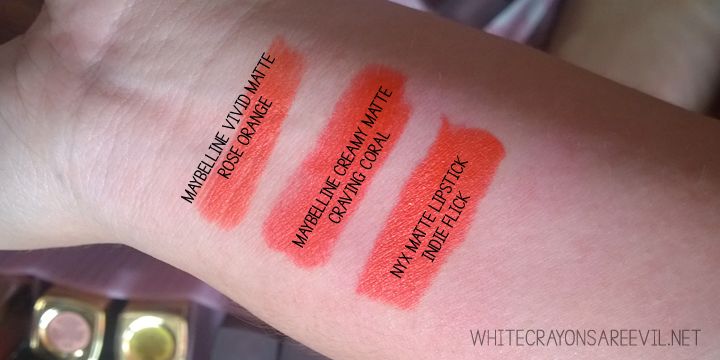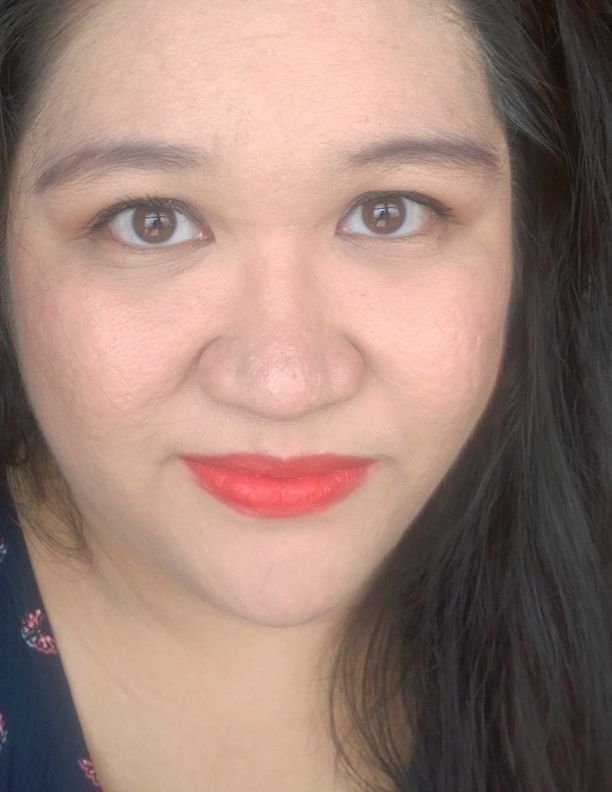 Rose Orange is probably the least original color of the bunch. As you can see, I have two other shades in my collection that look very similar.
Verdict:
As much as I very much LOVE Maybelline's creamy matte line, Vivid Matte fell short.
For starters, shades are limited.
Second, shades are not particularly unique (cept for Neon Pink, maybe).
I also did not like the formula. I had to retouch three or four times during the day because my lips look like a mess only after three hours or so.
It's also a bit more drying than Creamy Matte.
Application was seemless, to be fair.
They have 'just ok' pigmentation. Not a very mindblowin pigment, but not dull also.
Mayor of Transfer town.
I don't think they're matte. It's just not very glossy.
My lippies have a VERY VERY BAD, CLAY-ISH SMELL. Really bothersome. Did I get a bad batch? But all the colors are like that.
Will I buy the other shades? I already did.
Will I suggest these to friends? Hmmm, maybe pick up the Neon Pink if you're into that color. There are tons of like-colored lippies out there with better formulation (and smell!). Go with that instead.
Do you want me to feature a particular lippie here on Lippie Tuesday? Leave your suggestions at the comment box below. Please do check out my other Lippie Tuesdays here 🙂