Skincare
Hello, guys!
My Feature Friday this week will be on skin care. Let's veer away from make up for a moment, shall we?
I have a very acne-prone skin. Like, crazy acne-prone.
After my facial treatment with (derma clinic omitted) almost a month ago, i had TONS of breakoout specially on my forehead. Well, to be fair, I did't know if I should blame the derma clinic or my stressful life in particular. Needless to say, I am not going back there anytime soon. To the derma clinic.
ANNNYYYWAAAAY.
I decided to grab the Celeteque DermoScience Acne Solutions Acne Spot Corrector Gel (what a mouthful!) for P169 at the SM Department Store becase the acnes were getting out of control!
There's also a pink version of this tiny pack, but that's for dark spots, I think.
Here's the back information:
The tube itself: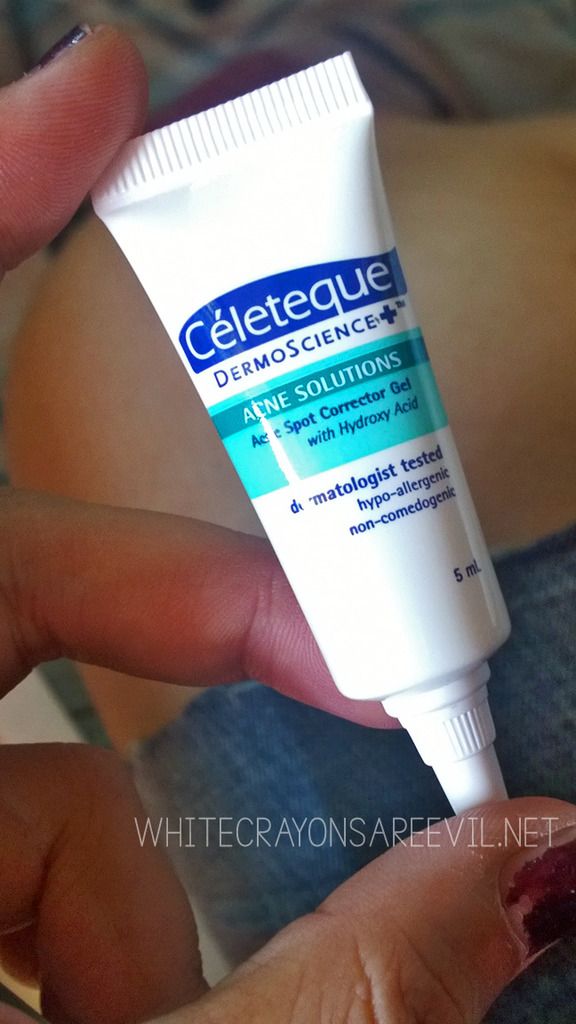 Applications's very easy because it has a long, very pointy end. ALTHOUGH it could be a little unhygenic if you're not careful.
The serum itself is… chemical-y. Which is not suprising, of course.
The smell is super strong, like it smells acidic, but there's a hint of something feminine, like something sweet or floraly or the smell of shower. However it does really no mask the chemical smell.
My thoughts:
It worked wonder for me. I do not use this twice daily, only on my night time routine, but I noticed that my mid to minor acne lessened the next morning. It was a big help in controling me acne when I first used it. I was really quite impressed.
And for its price? A+
The small tube might turn people off, but remember that you need not, ney, SHOULD not smother this on your face. Only on the problematic spots, loves.
I do not use this twice a day because it smells and feels really chemical-y. There are tons of stinging.
Note that it may work differently on some people. I suggested this to a person very recently (because we were both having some stress-related breakouts), and she told me that this burnt her. Yes, the pimple did lessened, but the product burnt her. So, just be very careful.
Will I repurchase? YES!
Do you want me to feature something here on Feature Friday? Leave your suggestions at the comment box below. Please do check out my other Feature Fridays here 🙂