Face
So, I am doing a little series of posts on liquid foundations. Because reasons.
I will test various liquid foundations available in my country. I will try some international brands, as well as local ones.
Keep in mind that I have oily skin, so I am looking for something which will help minimize this oil rig which is my face. Also, SPF is super important. Also, I commute to and from the office, so these babies went through some, err, rigorous tests. Haha.
I tried to be uniform with my make-up routine, changing only the foundation, my eye make-up and my lippies. The reason for this is because I would like to fully see the potency of the foundation.
Here's my routine, consistent throughout this project
Nivea All Matte Toner
Sooper Beaute Pore Minimizing Serum
Maybelline Baby Skin Pore Eraser
Then a thin layer of baby powder
then the foundation of the day. Then I will let that set for about 2 mins.

Blot excess product with tissue paper
Essence All About Matt! Fixing Compact Powder
Let's start!
I put these three under one post because they are visually similar. Like, look at these tubes. The Covergirl and the Essence tubes are virtually twinsies.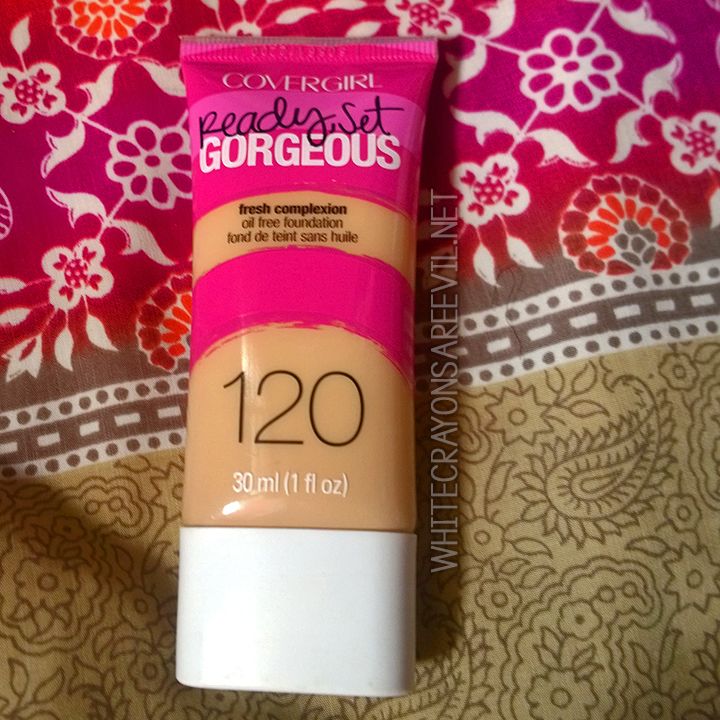 Covergirl Ready Set Gorgeous
shade: 150 | size: 30ml/1 fl oz
price: Php 495 | SPF: n/a
where I brought mine: SM Megamall Department Store
Claims: One simple step for a flawless, natural look that lats all day. The formula blends easily (true) to even skin tone and reduces shine all day. | Oil free. Won't clog pores. Suitable for sensitive skin. Lasts all day.
Thoughts:
Very natural, semi-matte finish.
No smell.
I wouldn't call is a full coverage, but it's better than mid coverage. super blendable and buildable
My face stayed fresh-looking for some hours, and oiling throughout the day is pretty minimal. I wasn't able to fully use one sheet of oil film. Impressive.
However, it did NOT last all day, I had it on for more than 12 hours, and it was gone when I got home. To be fair, I had it on for 12 hours.
Will i repurchase? I dunno. I like the finish and coverage, but it does not seem like it has SPF. Maybe I can deal with that by applying a primer with SPF, or a powder.
Wet n Wild Coverall Cream Foundation
shade: light/medium | size: 29.6ml/1 fl oz
price: Php 399 | SPF: n/a
where I brought mine: BeautyMNL
Claims: All day. Medium-to-full coverage. Lightweight, satin-matte finish. Visibright complex reduces the appearance of wrinkles and rejuvenates skin.
Thoughts:
Coverage is not as good as the Covergirl one, but buildable.
Note that the shade in the bottle is DARKER than the actual product.
This shade is perf for me.
I HATED that the opening in the tube is SUPER huge so you have to be very careful not to spill tons of products.
It did survived my daily morning commute (read: harsh Manila sun and pollution), and I think it did great. It did not fade, and it kept my oil at bay.
However, this did not wear all day. My face was oily maybe on the 5-hour mark?
The oil on the blotting paper's not that bad, though. However, I can really see the shine on my face.
Will I repurchase? Hmmmm. Maybe. But, again, the non-SPF thing is a downer. Also, between this and the Covergirl, i think the latter has the advantage re: coverage.
Essence All About Matt!
shade: 20 matt nude | size: 30 ml/1 fl oz
price: Php 349/Php 200 | SPF: n/a
where I brought mine: SM Megamall Department Store
Claims: Mattifying oil-free foundation for a flawless and radiant finish. Covers imperfection without clogging the pores. The formulation is long-lasting and moisturizing. Dermatologically tested.
Thoughts:
the finish was matte, but as the day progressed, it became a dewy matte which I appreciate because it looked very natural.
color matches me. That's always a good thing.
because of this dewy finish, i looked like I was oiling up, but in a natural, healty looking way.
when I blotted at around the 5-hour mark, i only had to use one sheet of oil film.
no scent
long lasting
will i repurchase? Again with the SPF thing. But I do like it, and the battle is between the covergirl and this one, and this one's cheaper.
Other White Crayons Are Evil Face Off: Liquid Foundation
SanSan Matte and HD, Etude House

Ever Bilena and Etude House (technically, a BB Cream Face off)