Lips
I realize that I will be posting two Lippie Tuesday this week. Consider this my gift to you.
I want to talk about two other shades of the very, very popular MeNow Kissproof Soft Lipstick aka the ebay lip pencil. I have this review on my draft for a very long time now, so, I just want tell you guys about it and get this over with.
This is not the first time I wrote about this. You can check out my reviews of three other colors here
For now, let's focus on these two: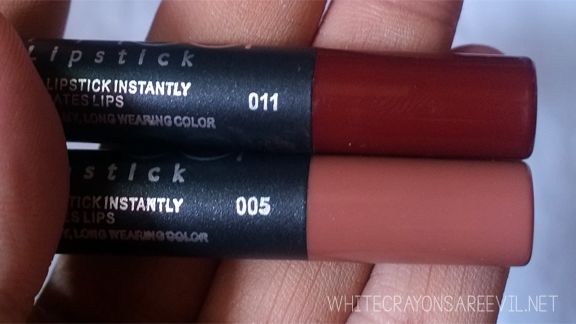 No. 011: I've had these two for quite a long time now, and I have yet to wear this outside my house. It's a deep brown color, like very chocolate-y. It just does not suit me well. It's a gorgeous color, though. I am keeping it because it's such a unique color in my collection. Maybe someday I'll find an occasion to use it.
Application's a bit hard, though. It does not glide on the lips.
No. 005: oh sweet no. 005. My beauty, no.005.
No. 005 is a BEAUTIFUL shade of nude and it just takes my breath away. It is soooo wearable, application is heavenly, and because it is nude, it is absolutely low-maintenance.
This is probably the first MeNow lip pencil I ever sharpened. Will definitely repurchase.
Since the 005 is super matte, i pair this with the equally gorgeous Maybelline' Velvet Matte in Mat12.
Here are swatches in different light settings: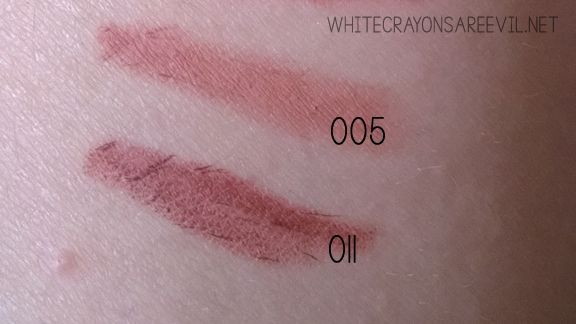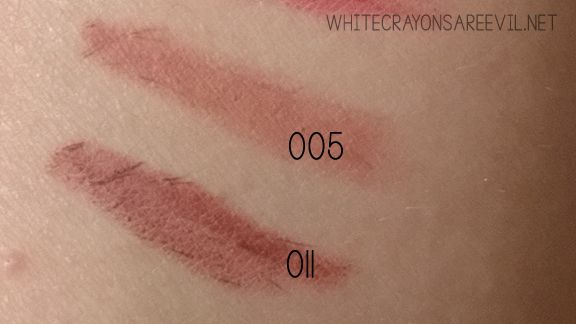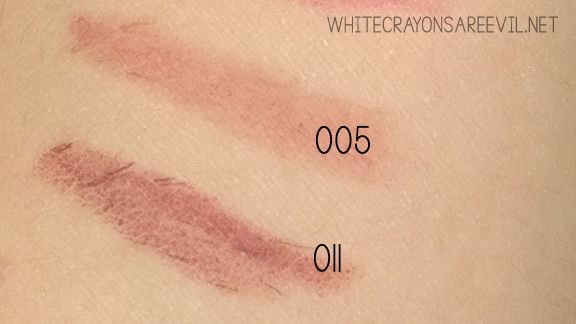 Do you want me to review a specific lippie? Please let me know in the comments below 🙂