Lips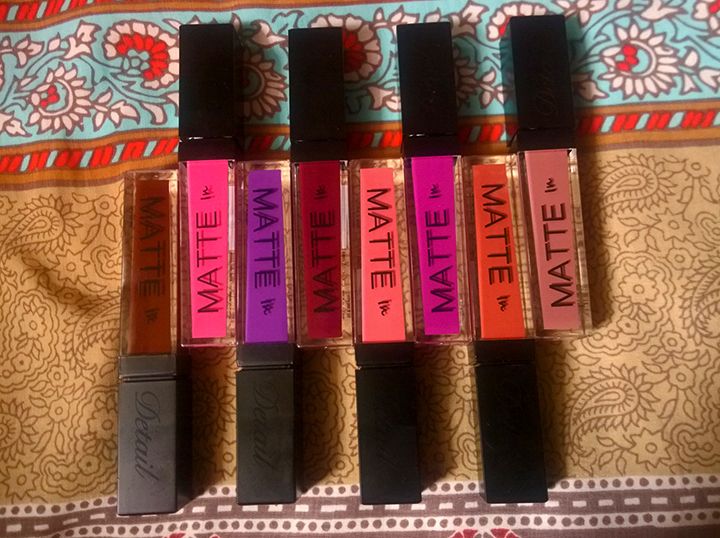 You remember when I told you guys that when I went City Color shopping, Cosmetix Unlimited gave a freebie lippie and I super loved it and I said I wanted to buy all the shades?
Well, I did! Almost.
I saw at Lazada that Cosmetix Unlimited also sell these beauties online. Yey!
I ordered at Lazada and I kind of didn't have an awesome experience. I am not blaming Lazada since I have ordered from them gazillions of times already and this never happened. I think the problem was at the end of Cosmetix Unlimitrd, the supplier.
So, I ordered in two 'batches'. Batches, meaning there are two items in Lazada and I bought them both. Batch 1 contains the shades D1, D2, D3, D4 and D10 and batch 2 has D6, D7, D9, and D10.
Are you paying attention? So basically, I ordered all the shades except for D5 (does this exist?) and D8, plus two D10.
It was on sale at Lazada if you buy in bulk, so I did that because I absolutely loved my D9.
Since they're coming from the same supplier, I expect them to arrive the same time. And they did.
The problem was, there's a missing item.
I already saw this kind of review at Lazada. A person ordered a 5-piece batch, but only received four. I thought it would not happen to me so I went ahead with my order.
What arrived were D1-4, 6-7, 9-10. Only one D10. I was expecting 9 lippies, but only received 8.
I called Lazada about this even though I know this is not their fault. I think Lazada is only like a middle man which connects the supplier to the buyer. They're like the courier. So if you're shopping at Lazada, check the sellers as well. Correct me if I'm wrong, though.
Anyway, I called Lazada and they told me that I needed to return the items so that I can get my missing item – which for me was ridiculous but I already saw that coming.
I decided to let it go. I already have the D10 anyway, and I got the lippies for a steal already (30% lower than the original price) and i was in no mood to go to LBC to return my new babies.
It's just that I felt bad as a consumer that I did not get what was promised.
So there. Take whatever lesson you can from my story.
Anyywaaay.
According to the label, Matte in Detail is formulated and distributed by Cosmetix Unlimited.
I'll be severly impressed if not for my missing D10 🙁
Let's go on with the swatches, shall we?
(edit: I noticed that some colors changes when applied for a long time, so I might edit this every now and then.
D1: SAMANTHA

Samantha is a really really really deep brown, and would be perfect for some occasions but I don't see myself wearing this at the office. Or can I? Anyway, since it's dark, I had a hard time applying it.

D2: DIMPLE

Dimple is a bright pink, almost Barbie Pink. A deeper Barbie Pink. Since the color is attention-grabbing enough, I think this is wearable with minimum eye make up. (not true to tube) Dimple is a darker shade of pink and it's PERFECT for everyday use. The tube color is so much lighter than the actually color after application. I also adore the formula of this one since it did not thoroughly dry my lips and it's not super sticky. So far my 2nd favorite shade, next to D9.


D3: ROX

Rox is a bold violet. It's really bold and really violet. I don't see myself wearing this for everyday make up AT ALL. Do you guys know the number of Nicki Minaj? I want to give this to her. (I gave this one aways, s

D4: SABRINA

Sabrina is a beautiful deep wine red, with a shy hint of plum

. (not true to tube) I love it. Looks more purple that red when applied thinly. I think the color makes a statement either way. Patchy.

D6: NASH

Nash is a tame nude with a dash (see what I did there?) Of pink. Gorgeous nude. This reminds me of LA Girl Matte Flat Finish Pigment Gloss in Dreamy, only pinker. (not true to tube) This is a light pink color. Still pretty, but it's not nude-y at all.

D7: NAIMA

Naima is a purple lippie that boarderlines the ridiculously loud and something wearable. Yeah, I think i can pull this off as an everyday wear. Reminds me of Pink Sugar's purple pleasure. Naima's just a tad neon-y.

D9: JHEN

Jhen's what made me fall in love with the line in the first place. It's a beautiful deep red-y brown which demands attention. VERY similar to LA Girl Matte Flat Finish Pigment Gloss Fleur.

D10: RHEA

Rhea is nude with a hint of purple and ashy gray. How to I describe this color? It's nude, but a vibrant nude. (not true to tube) Ok, so I was able to wear this today (outside the mandatory swatching), and Rhea maybe kindov a nude, but it's really more of a ashy dark purple. It's like a purple lippie, but will less saturation. Haha, I don't know how to describe it aside from the language of Adobe Photoshop. It's still a gorgeous color, but I did a kind-ov dramatic PURPLE eye make up and with Rhea, it does not look like an officewear. It would be PERFECT for a night out, though.

Thoughts:
Some shades are superb and utterly beautiful, some are extremely loud and not at all wearable and I think can only be pulled off by Nicki, and some applied unevenly.
So I think the best way to find out if you'll love these is to swatch them yourselves.
Maybe I already mentioned this on my first impression post on Jhen, but Matte in Details is absolutely transfer-proof, kiss-proof, and does not budge all day. Jhen was a little sticky for me, but Rhea has zero stickiness, so maybe it really depends on the color? I dunno. But Jhen's stickiness is super tolerable.
I want to get the two other shades I'm missing. But after my online transaction, and I have no time to go to Fishermall, that might not happen anytime soon.
There are tons of chemical-sounding ingredients. It has propylparaben. Is that the much dreaded paraben? If so, sorry you guys. (I don't mind. I don't think paraben will kill me. Highblood pressure and too much intake of sugar and sodium will. So.)
update: you should know that after wearing some of them, I found out that colors may change throughtout the day. That's weird, since Jhen was true to the tube. D10 was definitely not. But staying power is constantly AMAZING. However, darker and louder colors are more high-maintenance.
Swatches in different light settings: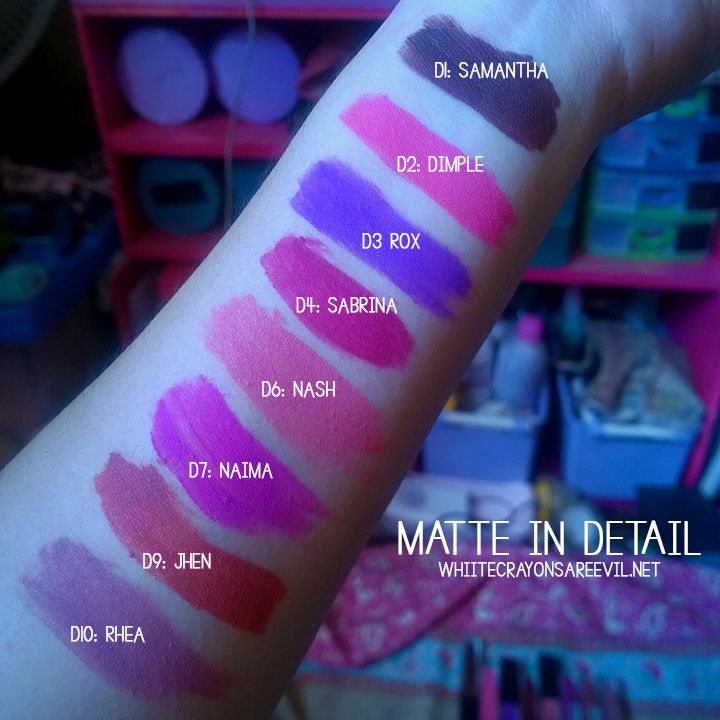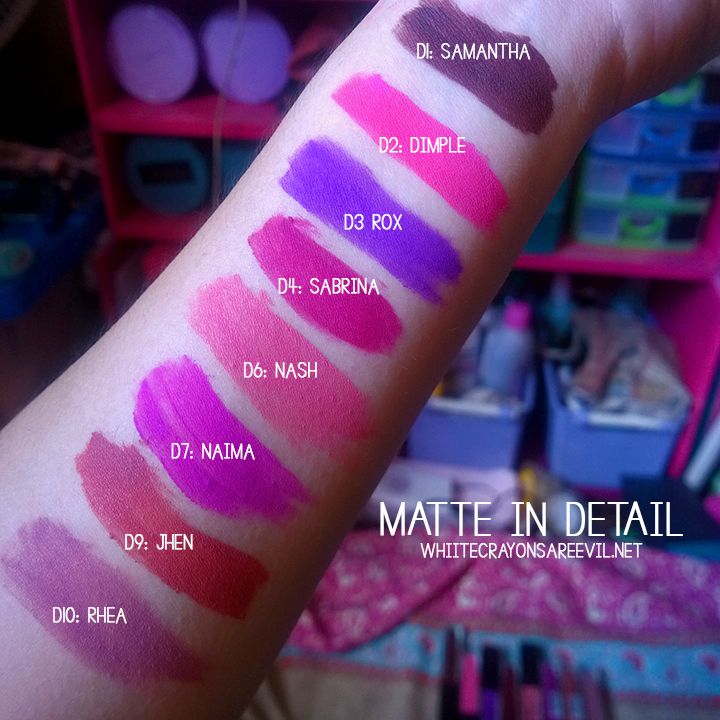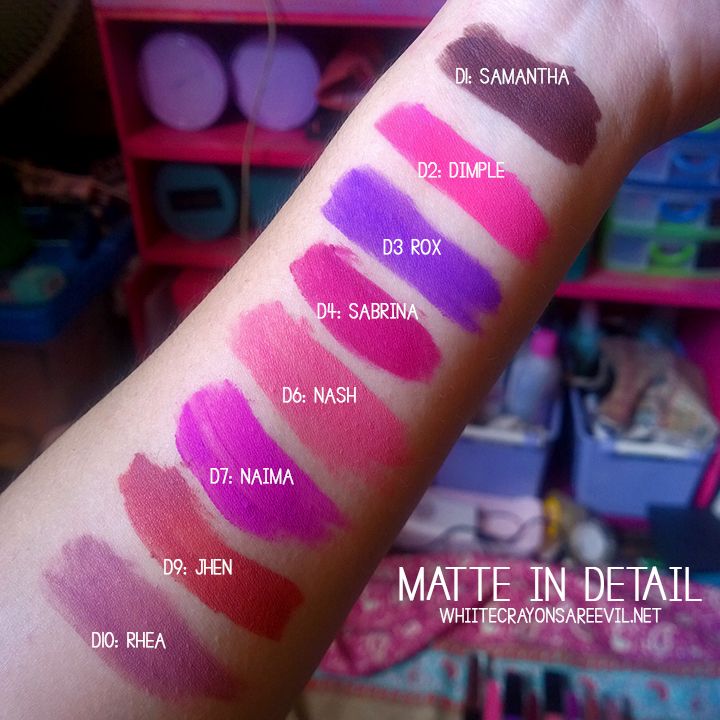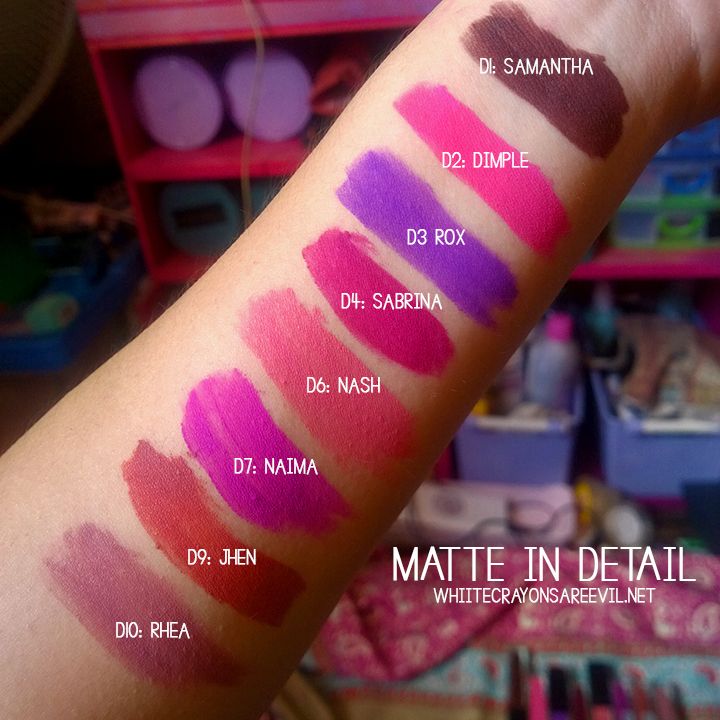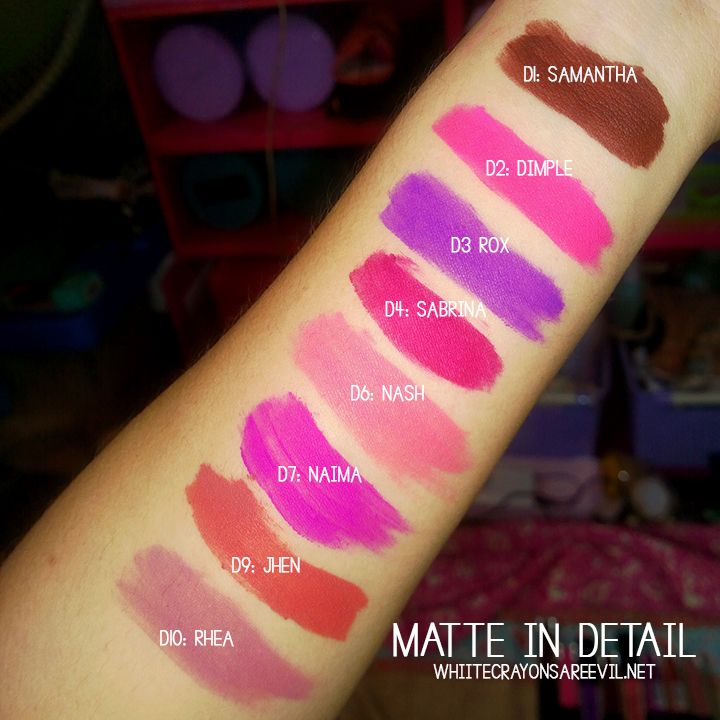 Some swatches on my lips. It's better IRL, i swear. HAHAHA
(Left: D6 | Right: D2)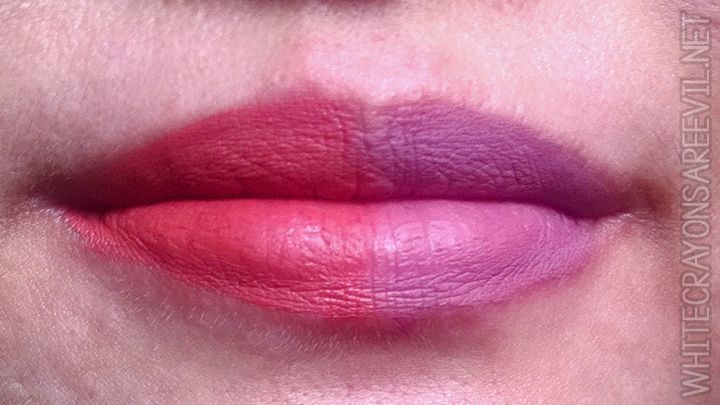 (Left: D9 | Right: D10)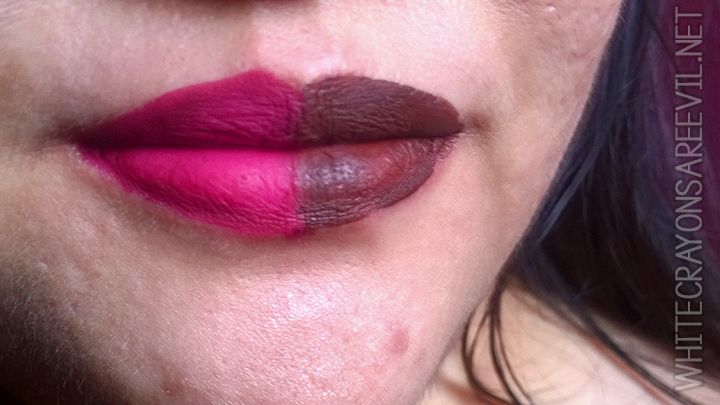 (Left: D4 | Right: D1)
(Left: D7 | Right: D3)
Edit: I bought four new shades! See the swatches here 🙂