Eyes
,
Lips
I found out through Instagram and our office's resident beauty and skin care expert, L, that there's a newly-opened kiosk in Fisher Mall in Quezon City that sells City Color stuff.
And I just recently found out how to commute to Fisher Mall!
(disclaimer, I don't go to malls as often as ordinary people because I hate people. Also, Fisher Mall is probably only 15 minutes away from where I live with cooperative traffic).
The kiosk's name is Cosmetix Unlimited. They are located at the 3rd floor. I think.
They sell City Color products as well as some MeNow lippies.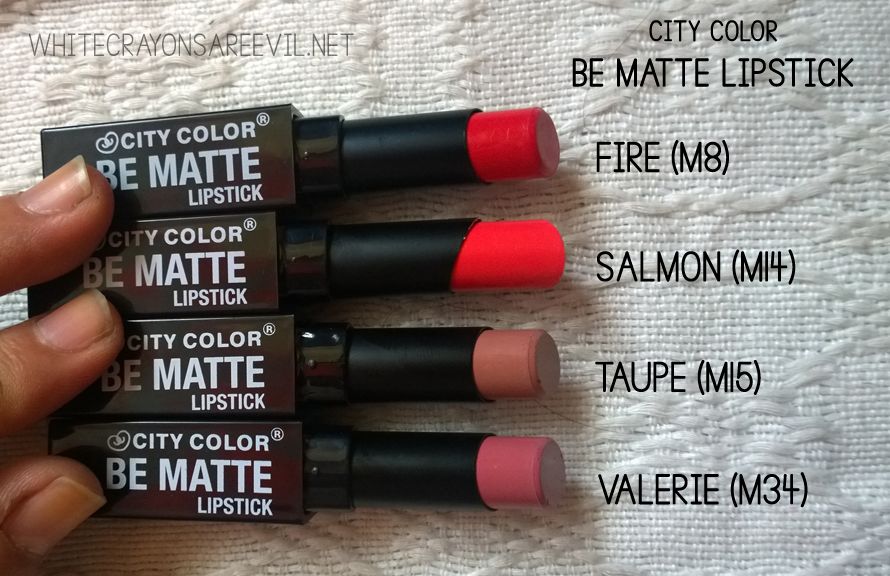 City Color Be Matte Color Lipstick
Fire (M8), Salmon (M14), Taupe (M15), Valerie (M34)
Php 225
Notes:
These finishes matte, but not the drying kind. Still creamy for a matte.
Staying power's better than most matte lippies I own. It needed retouching after morning coffee and lunch. The retouch will usually last until the end of the day.
I picked up four colors:

FIRE: Fire is… red. There's nothing really outstanding about the color. It's a forgettable red. *I* think it's a forgettable red, however I got a couple of complements while wearing this.
SALMON: salmon is a bright, gorgeous pink-ish orange. My lippie's turn thingy broke, though. It still protracts so no worries. Perfect for sunshiny days and happiness. DO NOT WEAR THIS ON FUNERALS!
TAUPE: I was supposed to buy another shade, Cappuccino, but they didn't have stocks, so the lady there told me to try Taupe instead. At first I was 'meh', that it's just an ok color. But the more I wear it, the more I fall in love with it. This nude-y, beige brown-ish color is perfect for everyday use, when you're going for a louder eyeshadow than a bold lippie. Thanks, Miss Cosmetix Unlimited for introducing me to this color!
VALERIE: this is a subtle mauve. I thought this is going to be a bright pink-ish, but it's more of a subdued warm pink. Another gorgeous color perfect for everyday use.
Here are other swatches in different light settings:
Pardon the aweful nails.
Here are other swatches, this time when applied to skin: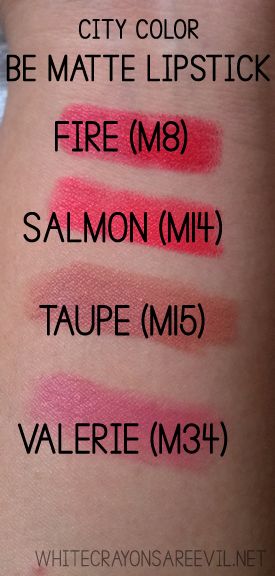 I also bought a dual-ended eyepencil which has a very pugmented pen on one end and a brush at the other end.
City Color Duo Brow Pencil with Brush (in Brunette)
Php 150
Cosmetix Unlimited also has a promo now that if you buy at least P699-worth of products, you'll get a Matte in Details liquid-to-matte lippie for free.
YEY!
I was shown lots of colors, but my eyes immediately zoomed into this gorgeous brown-ish red, Jhen.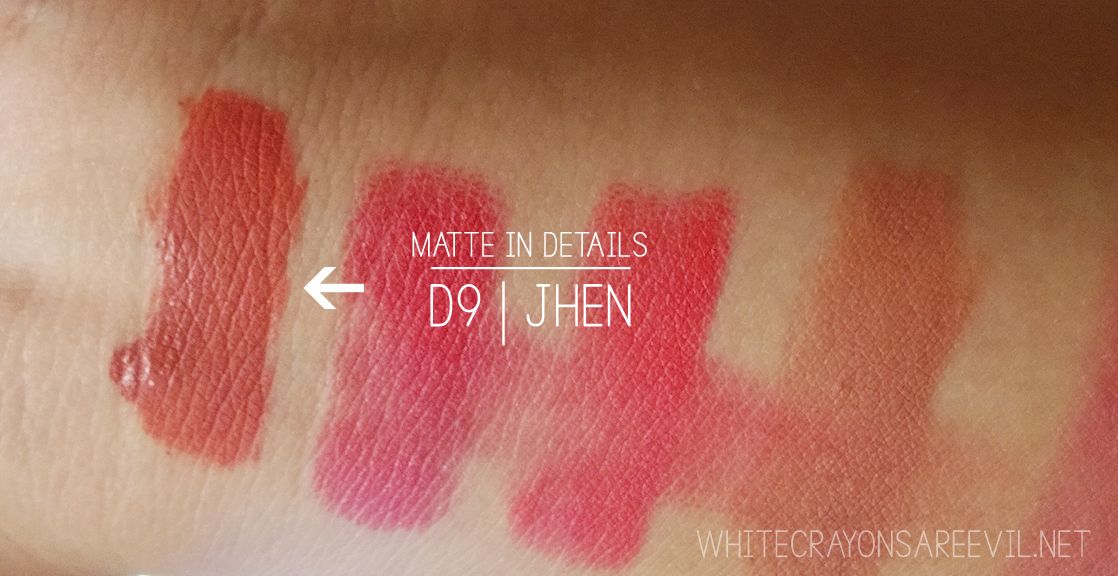 (sorry the picture's supposed to say 'Matte in Detail', no 's'. Teehee)
Look at the gorgeous color.
I was surprised how much I love Matte in Detail.
Color: super pigmented
It felt kind of sticky, a little uncomfortable, but not as annoying at the MeNow gloss. Totally wearable.
GORGEOUS COLOR!!! It looked nude-y to my face, but the kind of nude that demands attention. SUPER LOVE!
very long lasting. Maybe at par with PinkSugar's Sugar Tint
I want to get all colors!