Eyes
Another one of my recent obsessions are eyeshadows. I've seen countless tutorials on how to apply eyeshadow on YouTube, so by default, I am an expert now.
Of course I'm kidding.
I own a big palette of eyeshadow I bought maybe a year or two ago. Color spectrum was wide in that palette, so I find no need to buy anothe one.
However, almos almost all the shadows on my one big palette are shimery.
I need a shadow palette I can wear everyday to work.
So I went to Espana, Manila near UST and went to one of those instagram-store-collection place (pretty much a physical store where you can find some big instagram shops), Shopitude.
I saw a City Color nude palette in one of my previous visits there, and I wanted to get that. However, when I took a second look, I saw that the shadows were also very shimmery.
Then I saw this: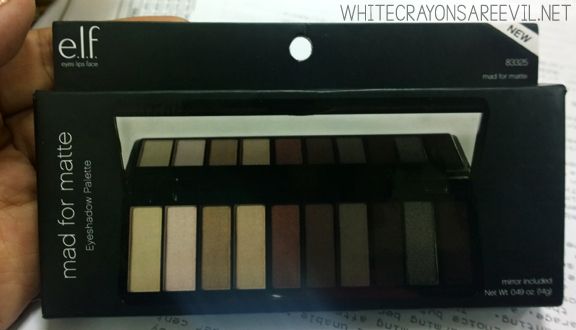 This ELF (Eyes Lips Face) Mad For Matte eyeshadow palette is a very basic, nude palette with no sign of shimmer nor shine. This was exactly what I needed.
I forgot how much this costs.
Oh wait.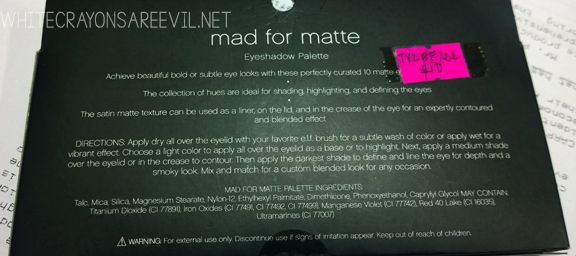 E.L.F. Eyeshadow Palette in Mad For Matte (Php 450)
I think it's a little tad too expensive for a palette from a drugstore brand, only because it only has 10 colors, and shadows come in small quantity.
But when I saw the colors, I knew that I can use ALL the colors for everyday wear and I knew then that it's going to be well worth it.
The case:

The case is very handy since it's small, and it feels really sturdy and not flimsy at all.
It also has a mirror the size of the compact itself.
Some swatches:


Here are my thoughts:
Well, let me just start off by saying I am obsessed with this palette.
Well, I really have no choice since this is the only all-matte eyeshadow palette I own, which will not make me look like I'm about to take over the dance floor with my shimmery eyes.
That being said, I practically use this everyday because it is perfect for everyday, no-make make up.
Shades are perfect for the very, very core reasons for eyeshadows – being an eyeshadow.
I just recently learned from a YouTube guru – who I forgot since I watch gazillons of eyemakeup tutorial a day- that eyeshadows' primary job is not to give your eye are some colors, but to give your eye area some shadows. Take one 'duh' pill, please.
Anyway, eyeshadows are not about the colors, but they are all about the depths and… err… "3D-ness" if that makes sense.
And this ELF palette is perfect for that.
Color pigmentation's not entirely intense, but very buildable.
Also, the shades give me enough variation of the look I'm going for or the intensity of the 'shadow' I want.
I LOVE that this comes in a compact, sturdy container.
No brush or brush compartment, though. That's a con since this could easily be a perfect palette for travel.
I'm sorry I wasn't able to take note the shop where I bought this, and I don't know if there are still stocks in Shopitude 🙁