etc.
The government started rolling out 'beep card' for our lovely (sarcasm) mass transport system (LRT/MRT), as replacement for magnetic cards.
I don't ride MRT and LRT1, but I sometimes use LRT2, specially if there's no jeep available, or traffic jam was inevitable. So I got my beep card at Betty Go Belmonte, a pretty sleepy station.
The card costs P20. I gave P100, so that's P20 for the card, and P80 load.I had no problem with the few times I used it (twice), so yey.
I had fun with it. Look, I even placed a Doctor Who sticker, which I got from GetGlue when they were still cool!
Then I heard that Globe released a beep card – WITH GCASH/MASTERCARD!
A FAIR WARNING: as far as i know, beep card load =/= gcash wallet.
Meaning, you can't use your gcash wallet to ride the trains, and you can't load your gcash wallet with those huge machines at LRT/MRT stations.
Dammit. I learned this AFTER purchasing the GCash beep card. All the blogs I read, and no one mentioned this. These sleazy bloggers just copy and paste information from press releases, without fully explaining stuff. Argh.
Anywaaaaaaaaaay. I am ok with my purchase, since I am a GCash user since EVER. But ever since they started implementing the KYC rule, I used it no more. KYC is a mandatory step, where you need to, like, register your gCash account by submitting some IDs, etc. And I have no time for that.
Luckily, since I linked my already existing GCash account to my new beep Gcash Mastercard, I am already automatically KYC. You know what, I'm not sure. However, the form I filled up is a KYC form. I also presented an ID, so.
(edit: I am now super sure that I was KYC'd since I received a confirmation message four days after)
I have yet to use it as a GCash Mastercard or a beep card, so I don't know how it'll work.
But let me tell you…
WHERE TO GET YOUR GLOBE GCASH BEEP MASTERCARD
Ok, before all this, it would be very convenient for you to register to GCash first (call *143# and choose the corresponding choices)
If you're not a globe user, worry not. The Caravan Lady gave me a free Globe SIM card, so I guess you can do your GCash registration there.
1.) Find the next/nearest Globe Caravan.
I was supposed to visit SM Manila's Globe Center, but Globe Centers are extremely slow so I looked for other non-mall places.
Poof! The Victory Underpass in Quiapo! Yehey!
I am very near Quiapo, and it's actually closer to me than SM Manila
(note: Lacson Underpass Caravan will only be there until October 12. Check out the schedules (here)
2.) Go to the caravan site armed with P150 and your valid ID
Victory Underpass was CROW-DED, and it took me more than 10 minutes to find the Globe stall (and I found it vecause I asked the administration office. haha!)
3.) Fill out some form
This is the KYC form I was talking about. If you already have a GCash account, tell the personnel that. The Caravan Lady was kind and was happy to help me.
She asked for my ID while I was filling up the form. She photographed it. Who need scanner when you have a camera phone, right?
4.) Link your GCash account to your new Mastercard
The Caravan Lady was helpful. She guided me on what to dial and how to link my card.
She told me to dial *143# and so and so and so. It was actually a breeze.
5.) Wait for your card to be printed.
Which is about five second.
6.) Pay P150 and ENJOY!
That's it!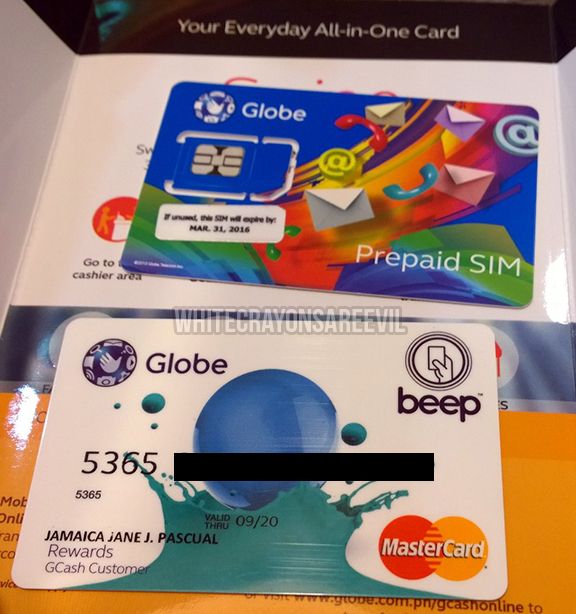 The P150 includes a 'kit' aka flyer with infographics, a sim card, and P30 gCash (not beep) load.
Until they find a way to connect my gCash to the beep, I'll probably continue using my Doctor Who beep card (since it still has load).
Still, I've been meaning to KYC my gCash and get a gCash card, so yeah, still a good day.
If you need informationn on how to reload you gCash, you can read stuff here. I'm not gonna post it on my blog, because I am not that kind of blogger. Not yet, anyway.
GCash is pretty useful, specially if you LOVE online shopping. A lot of Instagram stores use gCash as mode of payment.
It's pretty cool that you can conveniently load you gCash wallet via online banking. Years ago, you still need to visit a Globe store to do that. Yey convenience.