Travel
For our annual trip, M and I decided to book flights for Dumaguete City, a university town in Negros Oriental.
Yes, my first Visayas trip eveeer!
There were no reasons why we chose Dumaguete, actually. We choose our destinations in random.
As always, we pick an amazing place to visit.
So, here's M.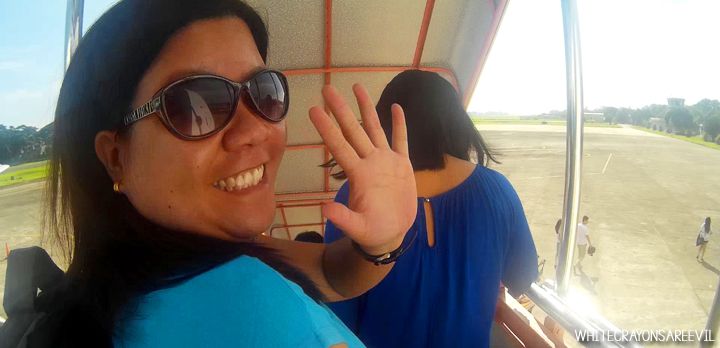 And here's me.
So, no. I am not making this up. Haha!
After we arrived in Dumaguete City, we went straight to Dumaguete Port and booked a ride to Siquijor Province.
Backgrounder for my foreigner reader, who I shall name Ricardo: Siquijor is an island in the middle (almost south) of the country, and is known as land of sorcery, folk medicine and magic.
[insert Shia LaBeouf Magic Meme]
We booked a tricycle tour of the island for less than P1000 for the whole tricycle, which could fit probably five max, and two persons very comfortably. So, M and I split the tour fee. Yey!
However, our theme for this year is "just chill". I thought this was our trip's theme on our first out-of-town trip in 2011 at Cagayan De Oro, until she booked a whitewater rafting activity.
Anywaaaay, here's what we did in the enchanting province of Siquijor.
ST. FRANCIS OF ASSISI CHURCH (SIQUIJOR CHURCH)
The church is really not that hard to miss. As you leave the Siquijor Port, the church is among the first thing you'd see along with its very welcoming "WELCOME TO SIQUIJOR" signage.
I felt at home already.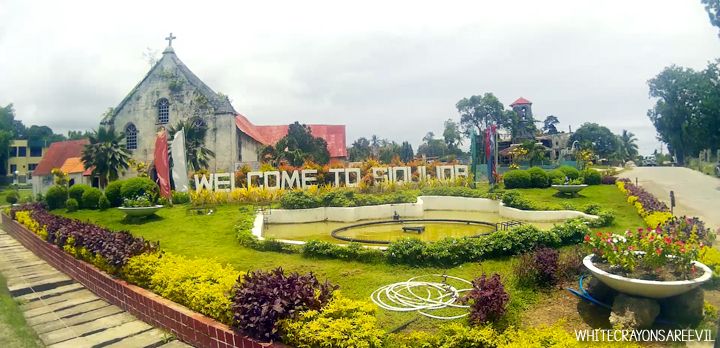 Why, thank you!
ENCHANTED BALETE TREE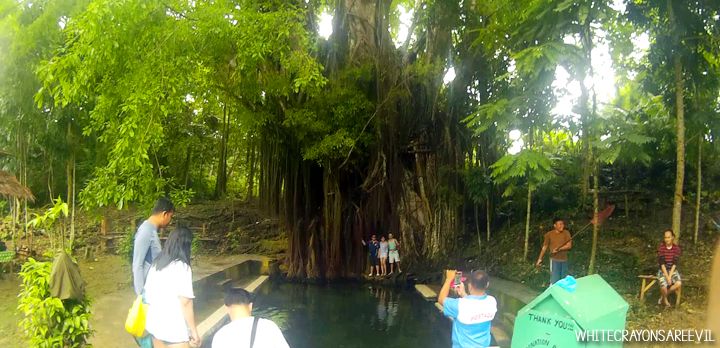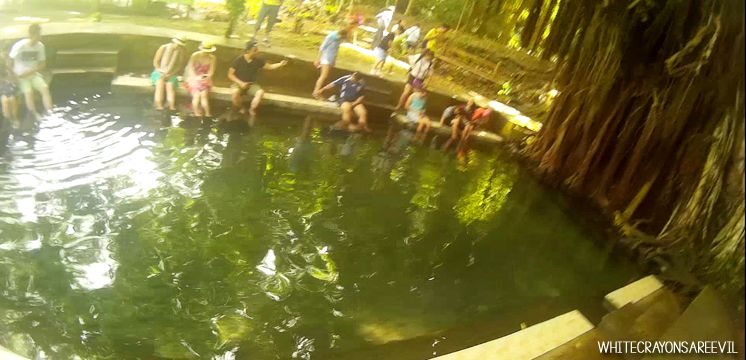 Our first stop for our day-long tricycle tour was the famous Siquijor Balete Tree which also doubled as a fish spa place #economic
Entrance fee's 5 pesos. Pretty cheap for an unlimited fish spa while enjoying the majesty of the Balete Tree.
backgrounder: Balete trees are quite known to be enchanted here in the Philippines. In local folklore, Balete trees are said to be home to kapres (a monstrous giant of some sort) and tikbalangs (half horse, half human).
Also, there's a street here in Manila named "Balete Drive", which is also known for its ghost stories.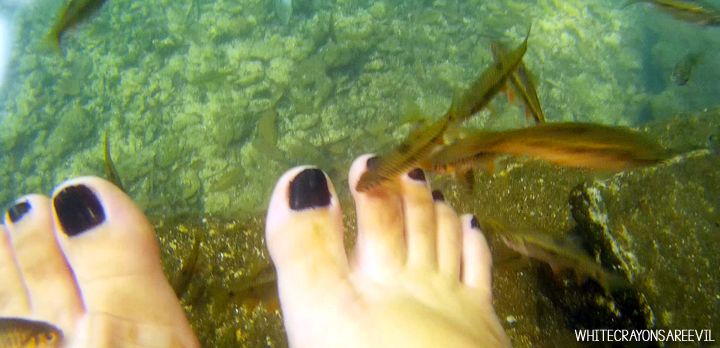 yey for Fish Spa!
You can also enjoy the free fish spa. The whole experience was very ticklish, I was giggling like crazy the whole time. My feet looked amazing after, though.
There are also some shops near the area. They sell some souvenirs like love potions. I. Kid. You. Not.
The stall person was very patient and eager to explain his merchandise. M asked if there's a gayuma (love potion), and he pointed to a bottle, but M that it's not really the strong kind. The potion would just make those people around you like you more.
The 'obsession' level kind of potion, they do not sell that, he said. He suggested that we consult the local healers for that.
"Obsession" was too much for us. "Likable" would do.
SAN ISIDRO LABRADOR (LAZI) CHURCH AND CONVENT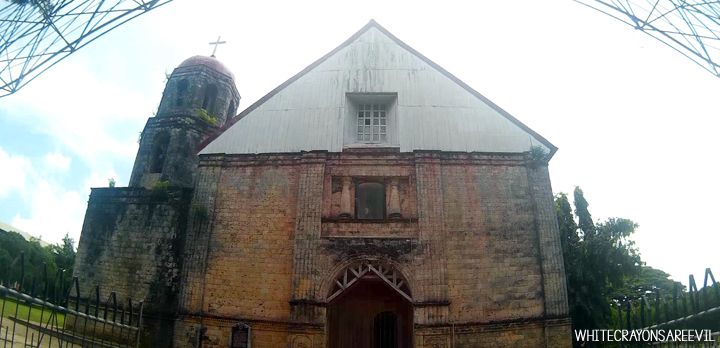 The San Isidro Labrador, aka Lazi Church, is a charming church in the town of Lazi (hence the name).
It's a really old church, and it shows. The creaking of the wooden floor, however, is part of its charm.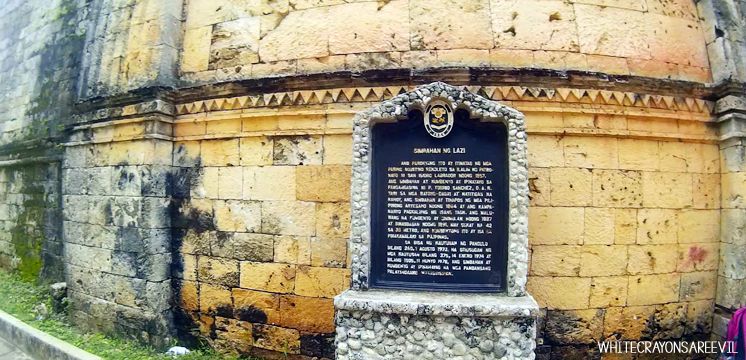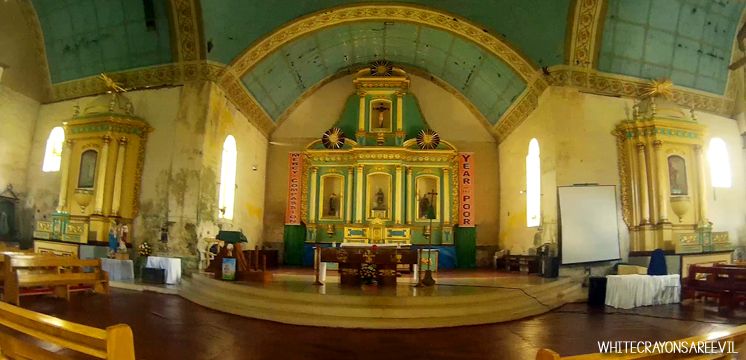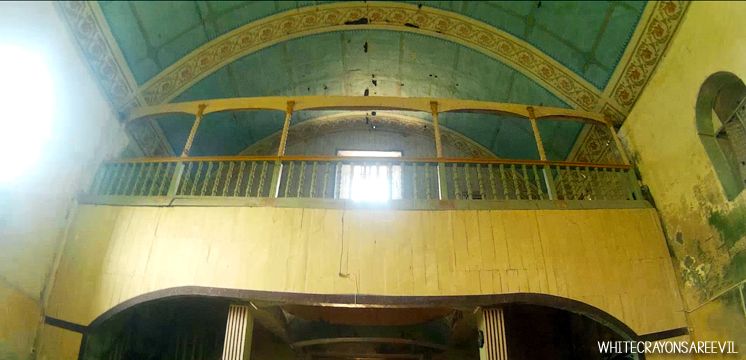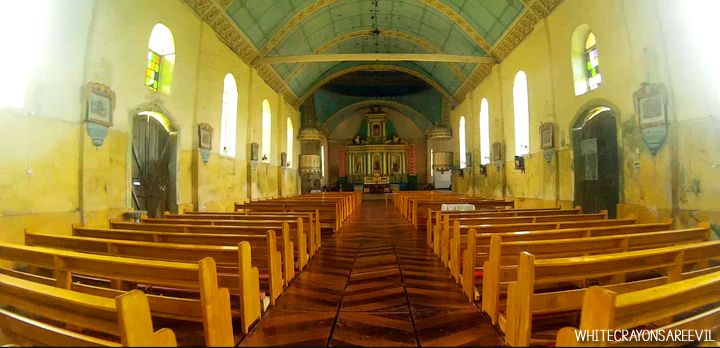 The convent is located in front of the church, and is converted into a functioning school.
You can go upstairs, but nothing much is there, except for more wood. I hope they maintain the convent, though.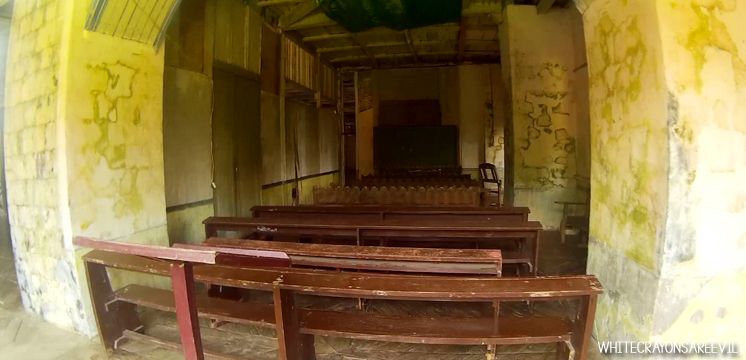 CAMBUGAHAY FALLS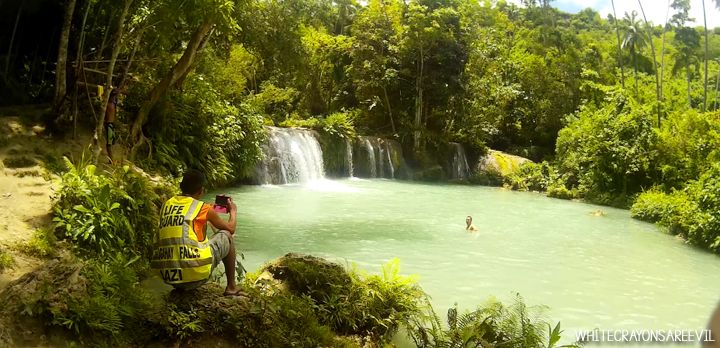 Cambugahay Falls is multi-tiered waterfalls of some sort. Unlike some falls which you can't see the top, you can very much jump from one layer to the other (if you know how to swim, that is).
But before seeing this wonderful waterfall, you have to do some stretching and go down gazillions of stone steps.
Water level is shallow, maybe 4ft, except in some areas. Don't worry, though, you'd be assigned a guide/lifeguard.
It's weird, though, that the guards do not have a fixed rate. They'd just accept "donations", so it's kind of awkward since we didn't know if what we gave too much or too little.
Our guide was very helpful though. He wanted us to fully experience the falls, and urged us to jump.
"Jump", you asked?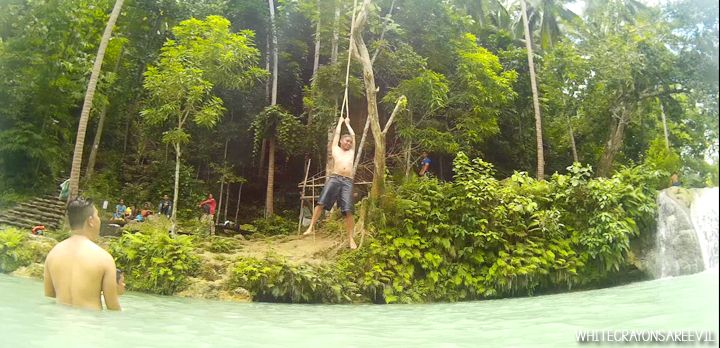 Yes, there's a rope in one of the levels, and you can jump a ala Tarzan! We didn't dare – M and I don't know how to swim. Kuya guide told us that we'd probably land on the shallow part of the pond, and if we didn't, he'll be there to get us immediately.
Um, no thank you very much.
It looked fun, though. The other tourists – all the foreigners – tried it, and it was fun… to watch. Justice for those who don't know how to swim.
This was my favorite part of the whole tour. I LOVE WATERFALLS!
(I was not a fan of the gazillion of steps going up from the falls, though)
SALAGDOONG BEACH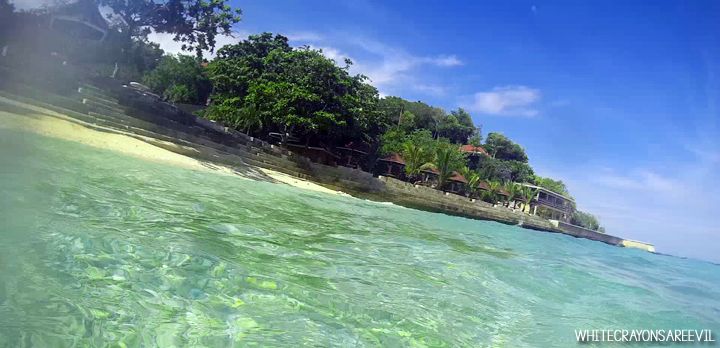 crystal clear
Time to get our  tan on!
Salagdoong Beach is immaculate. The water was sooo clear, I wanted to cry.
There's a restaurant within the vicinity of the resort, so we grabbed our lunch there.
We swam after eating. Wait, that's bad, right?
BEHOLD: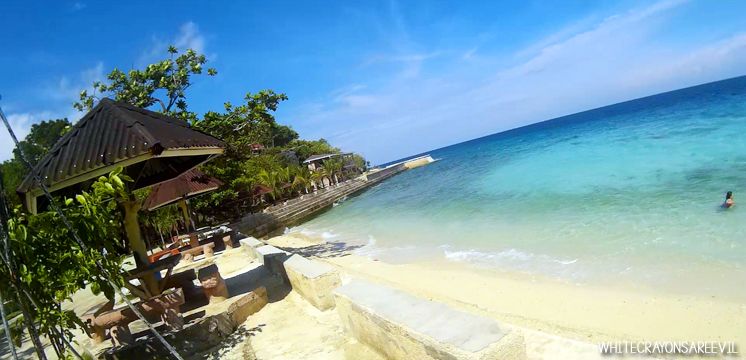 We hang out more at the resort after swimming. Beers are surprisingly cheap.
There's a cliff where you can jump, but again, we didn't dare for the very reason that we didn't want to die.
GUIQANON SPRING PARK AND MANGROVE RESERVE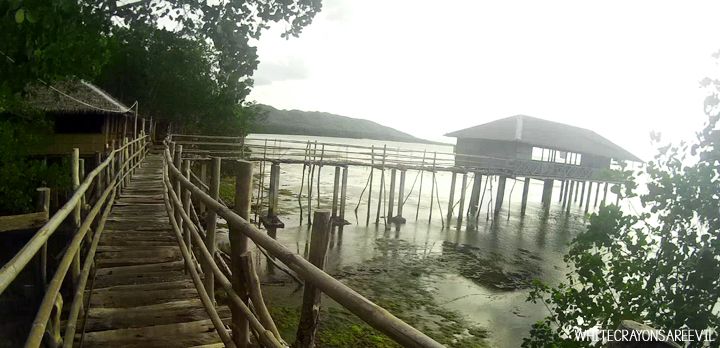 We also checked out a mangrove forest. It was quiet and tranquil. The web of wooden bridges were scary, but nothing I can't manage.
They also rent cottages, in case you want to get away from the noise. Writers would enjoy the place.
MUST DO: DO NOTHING
Last but not the least, you can do… nothing.
We stayed at Lorna's End of the World (review soon!) which is very popular with backpackers.

That's our home
It's a beach-front house, so we were literally breathing the freshest of air when we were staying there.
I LOVED how I did nothing. I was just sitting there outside while M was preparing our breakfast or dinner. Sometimes I read a book, most of the time I wondered about my life choices. All of the time, I was thinking of him #chararat
(side note: since we rented a room with kitchen, we decided to start our Siquijor lives buying groceries for our meal. We bought a couple of canned food, some fresh meat and some vegetables. M loved to cook so she cooked. I loved to eat, so I ate. It was a very smart plan, since it saved us heaps of moolah!)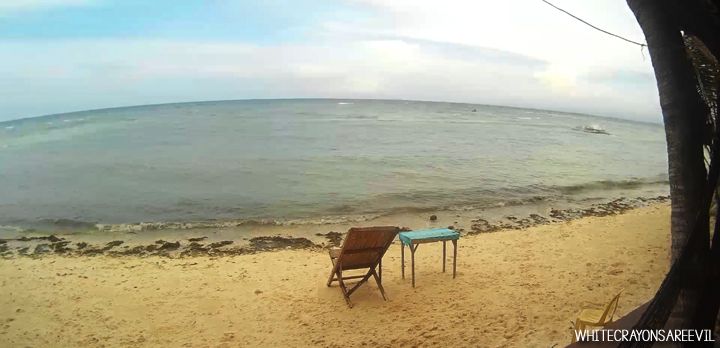 Our backyard
HOW TO GET THERE: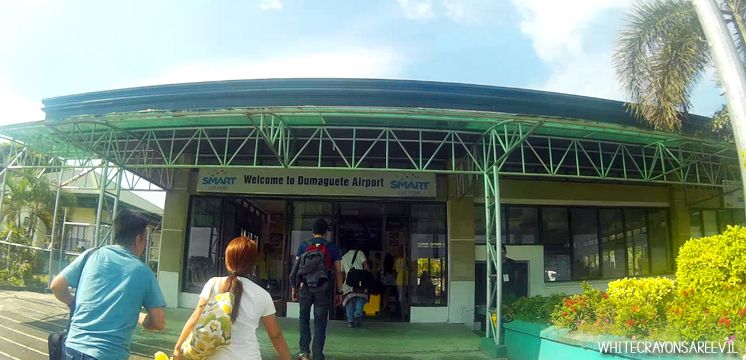 Here's our route. I don't know if there are other available ways to get to Siquijor, though.
From Manila, flights are available to Dumaguete City. From Dumaguete airport, ride a tricycle (cost us P150) to Dumaguete Port.
We arrived at around 9am, and the next available ride was a motor banca (a very uncomfortable one) which cost us P130/pax. Terminal fee was at P12 per person.
I think there are two ports in Siquijor Province: Siquijor (the town, not the province), and Larena. I'm not sure though if there's a Dumaguete-Larena trip.
I suggest you wait for the Fast Vessel (Ocean Jet) if there's an available trip if you're maarte. We rode it on our way home, cost us P210 each. It's airconditioned and 500x more comfortable than the banca.
The motor banca was non-airconditioned, and travel time took almost two hours from Dumaguete to Siquijor. The Ocean Jet took less than an hour from Siquijor to Dumaguete.
But if you ask me, the Ocean Jet was scarier since it does not have a katig. Yes, I'm weird.
TRAVELING AROUND:
Tricycles (so much larger and more comfortable that those available here in Manila) are everywhere. I think the minimum fare is 8 pesos.
If you know how to ride a motorcycle, and you have a license, you can also rent one.
BONUS: What I learned.
'Lubi' is coconut/buko.
Some tourists are incredible rude.

So, one common courtesy as a tourist is when other tourist is taking picture of a spot or something, YOU LET THEM FINISH. Because it is FUCKING RUDE to assert arrogance and dominance and ruin someone elses shot!

There was a couple that we saw everywhere we went, and they were incredible, INCREDIBLY rude. I know they're tourist since they're speaking Tagalog. It's like it's their first time to travel anywhere!
I swear. M and I have been doing this travel thing for six years now, and this is the first time this happened to us. Fucking tourists. Pweh.

Another common courtesy is to RESPECT THE FREAKING PLACE, specially if it's a place of worship.

It doesn't matter if you do not share the same religion, you have to respect an area if other people pray on that place.
There was an individual, a tourist (I deduct from her cameras and all) at Lazi Church who was stomping at the floor of the church. YES, STOMPING. The church's wooden floor looked fragile, and it was loud, so the STOMPING of that imbecile tourist echoed throughout the church. I looked at her, maybe her steps were just heavy. No. She's doing it on purpose – lifting her knee up high so her steps would be heavier. FUCKING RUDE.
Her companion told her to stop it. But did she stop? Guess. No, she didn't.

It is bitterweet that we saw more foreign tourists that local tourists. GUYS, SIQUIJOR IS AWESOME!