etc.
When you see a resto named Santorini, naturally the first thing on your mind is "greek food".
'Korean' would probably be the last.
There's this place that would always crop up whenever I do Foursquare searches on where to eat near where I live. I decided to try it out.
Santorini is a hole-in-the-wall at P.Noval Street near the University of Santo Tomas, and it's a K-Pop fan girl personified.
Ok, that's a K-Pop fan girl WHO CAN COOK A DECENT MEAL personified.
The first thing you'll notice is how small the place. It has six tables which can seat four individuals each. It's really small. However, when dined there, there was not much people (it was school break), and the place was really cozy and comfy.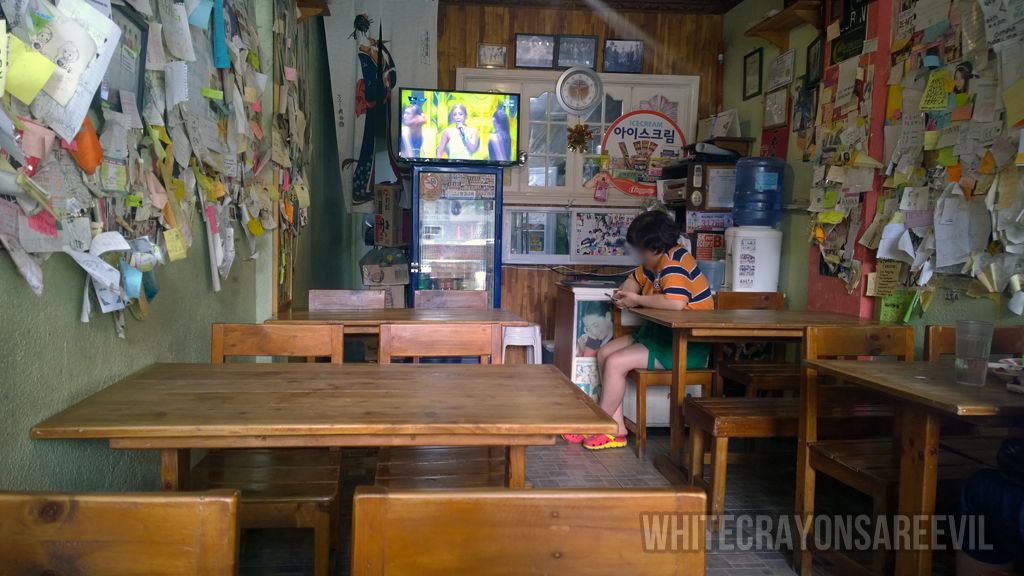 The second thing you'll notice are the walls which are adored with lots of posts its and notes. It made me feel uncomfortable, but because I have a slight obsession with order. It was nice reading the notes while waiting for your meal.
The third thing you'll notice is the flatscreen TV playing some K-Pop stuff.
It was pretty overwhelming for me since I am not a fan of K-Pop, but I love korean food, and that's what I came here for.
THE FOOD
I ordered Ramen and Curry Chickensomething which I figured is part of a new menu since it's separated from the main menu. I'm sorry I cant remember the real name. Was it Curry Chickenkatsu? Please leave a comment if you know. Haha.

Ramen, Php 110
The ramen was WAY better than Kiku's (which was a small walk away from this place). It's not the best ramen I have ever tasted, but for its price, it was well worth it. There were tons of flavor and the spice level was amazing. I have a problem with the texture of the noodles, very instantnoodle-y (I ate it right away, as suggested), but witg a little firmness.
Quantity was good for sharing.
I only wish that they have an option for a wooden chopstick. I am a pro in using chopstick, but i absolutely hate these tin-can-ish version. They slip my hands very quickly. It's annoying.
The second item on my binge was the Curry Chickensomthing!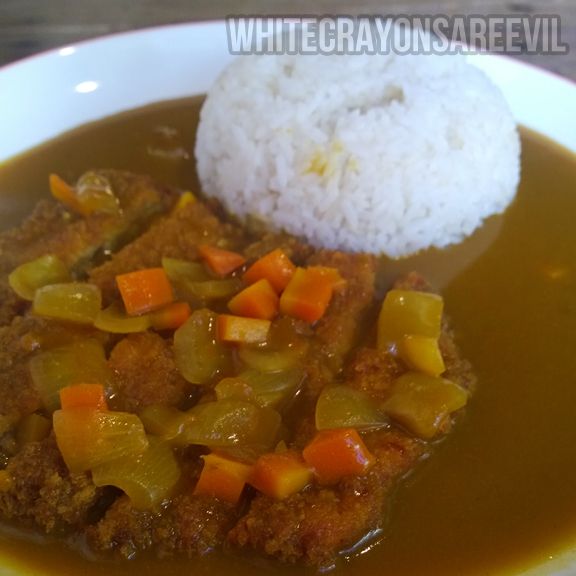 Curry Chickensomething, Php 200
I was not expecting much, but this meal was topnotch! The flavor was there, texture of the curry was gravy-like and not watery, the chicken was tender and super tasty. Serving was also good.
I am in love with this meal.
Aside from the small place and the annoying chopsticks, my only criticisim of the place were the prices of the meal. Sure, the food are worth paying their prices, but you have to remember that this is the university belt when one can have a decent meal for Php 50. If I were a student, I wouldnt spend Php 200 for one meal, unless my Dad's rich and I dont have to work all my life because my Dad will hire me on our company. Or something like that.
But the price is NOT a dealbreaker for ME – an employed individual who buys what she wants. As a matter of fact, in a non-student standard, Santorini's prices are super ok.
Santorini is a gem hidden from the more inexpensive eatery near the University. I'm trying their ZZpagettiii or something next time.
SANTORINI
P.Noval, University of Santo Tomas
Sampaloc, Manila