etc.
My dad, prior to his stroke, was always mentioning this burger place a few blocks away from our house. He said that for only 50 bucks, I can buy an amazing big-ass burger. Not verbatim, obvs.
For months, I ignored him. I actually tried to buy from said burger place once, but they were closed. Meh.
Today, I tried again. And boy, was I satisfied.
Chie's Burger is located at Jhocson St., here in our lovely kingdom of Sampaloc, Manila. It's a few blocks away from the National University and very near Lacson Ave (or Forbes if you're an old timer).
I ordered nachos and a regular quarterpounder, for 'take out'.
At first, I was shocked to see the prices. For their regular burgers, it was Php 110 for a halfpounder and Php 65 for a quarterpounder. The premium burgers were more expensive. I was not in a mood for a pricey burger (I was so used to Angel's burger's prices teehee), so I ordered the most inexpensive.
I waited for a few minutes because the burgers were grilled fresh.
And here's the cheapest burger – a regular quarterpounder. THEY ARE HUGE!

ratio to my hand. and i have large hands!
See what's inside.

Regular Quarter Pounder, Php65
I take that back, Php65 for this burger is a steal! I was so in love how they didn't use 'soggy' vegetables. The lettuce and cucumber were crunchy, and the onions were soooo good.
The patty was – for lack of better term – amazables. The taste was outstanding. It's not particularly too salty, but it's still very flavorful.
It was literally love at first bite.
I will not hesitate to order the halfpounder premium next time!
Their nachos? Ugh. Winner by default. My heart was immediate won over. I love their nachos!

Nachos, Php65
The chips were quite special. They were not those generic nacho chips you can buy from supermarkets. They were seasoned (with sugar and salt? not sure), and I absolutely adored it.
Ok, Chie's Burger is not exactly the next, i dunno, wherever the hell the best burger you have tasted in your life is (Mine's Charlie's. Love you, Tsarlis.). But I won't be surprised if people will come all the way from far away land just to taste these gems.
The taste:size:price ratio of Chie's Burgers made them truly worth visiting.
Also, since I'm banning red meat from my diet because of what happened to my dad, after tasting Chie's burger is the first time I actually felt sad about this new rule in my life.
Of course I can always have their nachos. LOVE THEIR NACHOS!!!
What would probably be a turnoff for some people is the location. The tables are situated outside, a few steps away from Lacson Ave (a some kind of a major highway). Read: pollution. Although, while I was waiting for my order, i seated there and I had no problem with it at all. I actually liked it. I was there at around 5:30pm. It was really nice.
The best thing about this place? It's only literally about 100 steps from where I live. So I can just order a yummy burger to go.
Yup. I counted the steps.
—–
UPDATE:
I returned there last weekend and was able to take some photos.
Anyway, they also sell fish which they will grill there and then.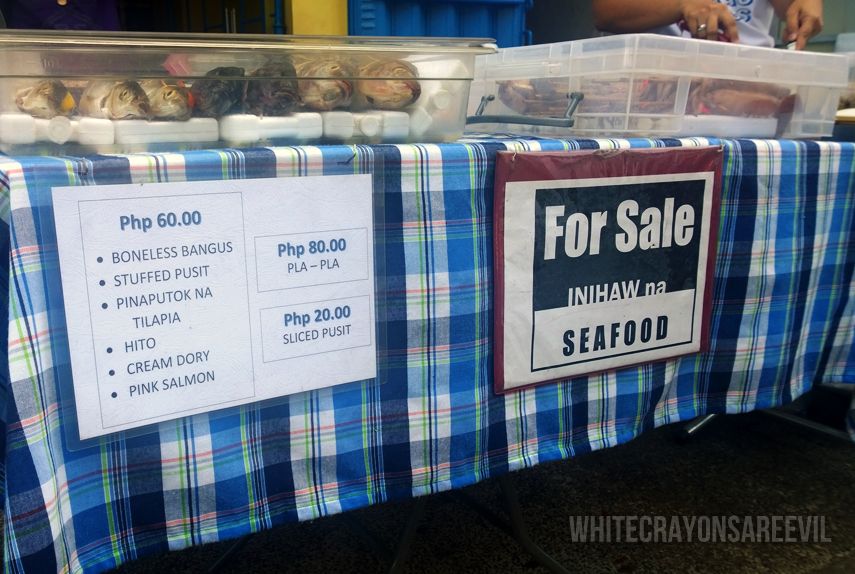 I was also able to try their Php 10-Apple Green Tea drink.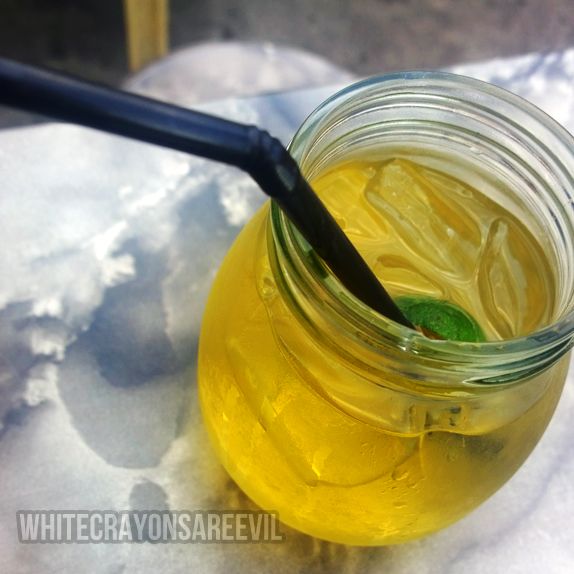 The drink was served in a re-used mayonnaise jar with TONS of ice. Luckily, the ice did not wash down the flavor of the drink. It was immensely refreshing… and only costs 10 pesos!