Breakfast Food
,
Filipino Food
M and I met last Saturday for a quick happy birthday brunch-turned-lunch (because I was late). M invited me to eat at Kanto Freestyle Breakfast weeks before, during the Komikon, but that didn't happen because I didnt go. But M enjoyed Kanto so much, M insisted that we eat there.
Kanto Freestyle Breakfast is an unassuming place. It looked very laid back, with uncomfy chairs and big tables. Part of its charm.
(There are three branches, I think. We went to their Kapitolyo branch in Pasig City. If I'm not mistaken, they have branches in Mandaluyong and Libis)
I arrived first, and the first thing I noticed was that the servers ignored me. Maybe they thought I was waiting for someone (which I was), or it was a busy, lunch time (which it was).
I waited for five or more minutes for someone to give me a menu, and no one actually did, until I asked for it. I dont think "waiting for someone" is not an excuse since I eat alone everytime and restos gave me menu naman as soon as I seat down.
But I shall let that pass. Because it was supposed to be a happy birthday lunch. And yes, there were a lot of people. Later on naman, the servers were very attentive to our needs. So side note if you're eating there on a saturday lunch.
When M arrived, we ordered the Vigan Longganisa and Batanggas Beef Tapa (Php95 each, I think). These were each served with eggs, fried rice and pesto tomato.
M ordered Fried Oreos (Php 50?), and being a breakfast food junkie, I ordered toasts with bacon and egg (Php 90? – they also have pancakes but the toasts looked very appetizing).
We also ordered an iced coffee each (Php30).
(Sorry, I'm not familiar with the prices. It was a birthday treat hihihi).
My beef tapa was spectacular. It just was. No other word to describe it. The beef was soft and its sauce was very tasty, but not the overwhelming kind that would make you umay. Serving portion was just right for its price, I think. The picture below may depict a tiny serving, but since the beef is so tasty, you can actually order a second round of rice with it.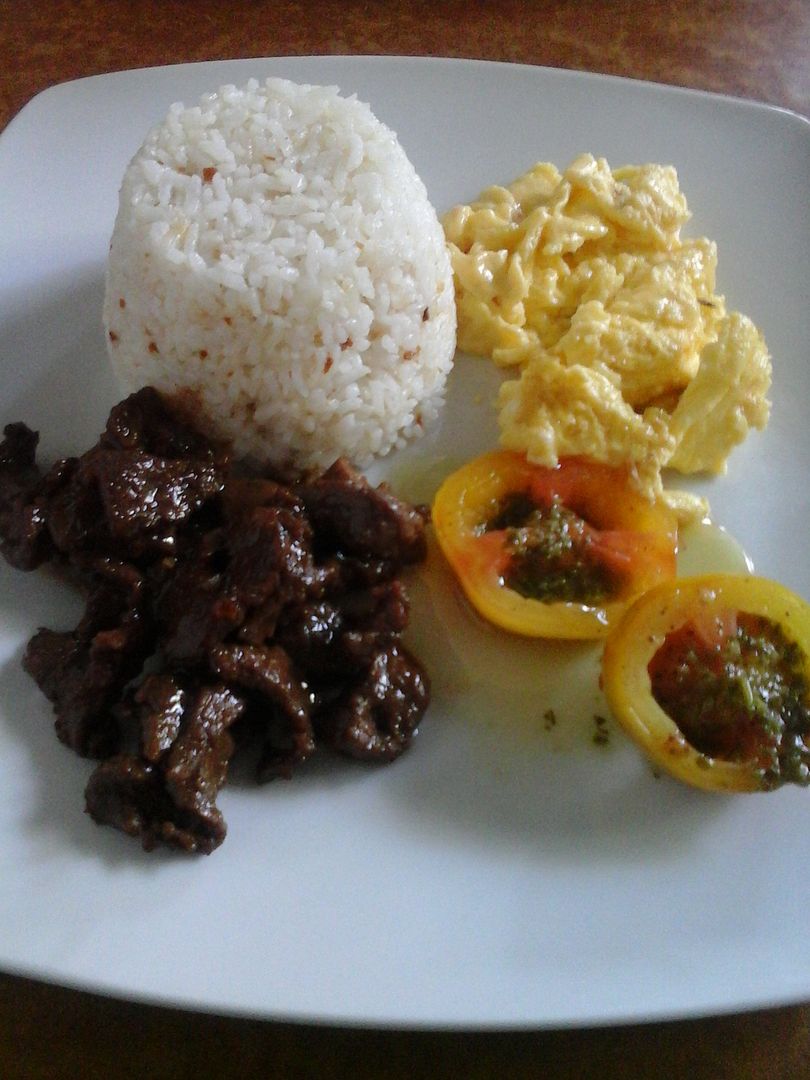 I was not able to try the Longganisa, though. Sorry. Here's a photo.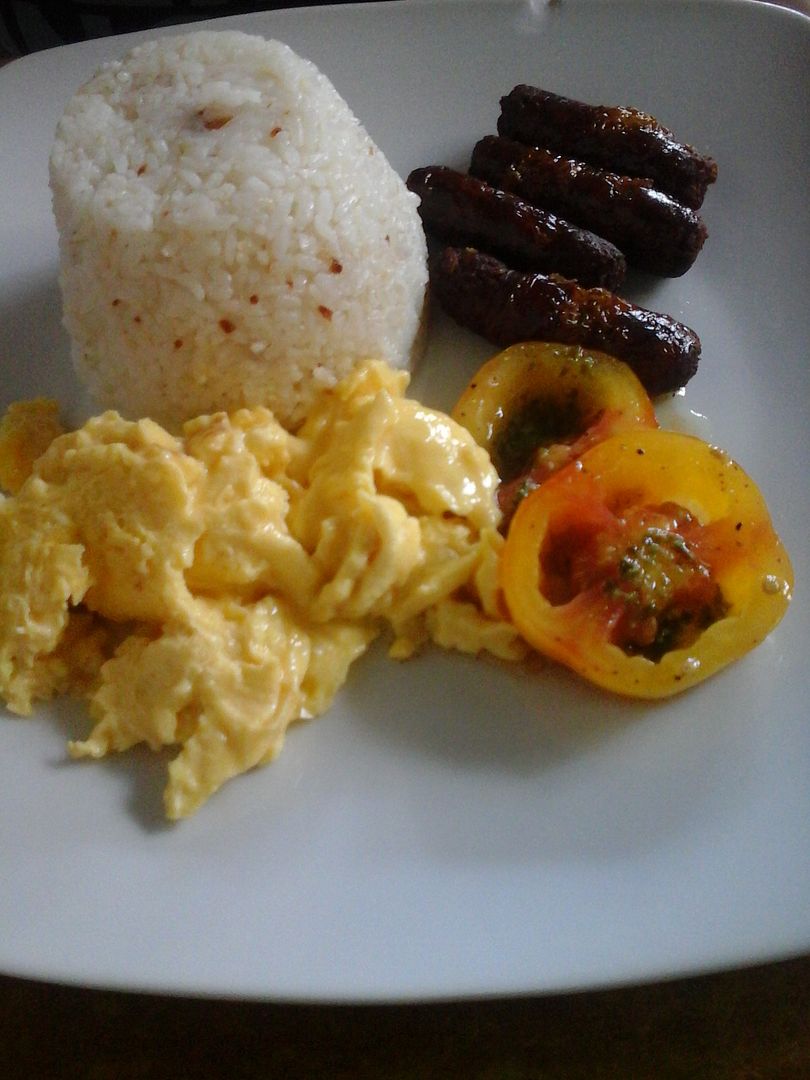 The iced coffee was so-so. Pretty ok for its price.
The Fried Oreos is not something I would go back for. I would compare it to maruya, a Pinoy merienda – banana fried with some stuff (hahaha!). I hate maruya because I can taste the oil. I dont know what's wrong with me (a related kwento about that below). The Fried Oreo was like that. Sure, there were oreos, but I can taste… well, more like "feel" the oil, whatever that means. BUT this could be my personal bias. M did enjoy it a lot.
The toast with bacon and egg was a delight as well. The bacon was superb and veeeeery yummy. The toasts were sweet because of the syrup, which make them perfect.
Will I go back to Kanto Freestyle Breakfast again? Absolutely. That's saying a LOT since I have to endure Shaw Blvd traffic to get there. Sure there was a little glitch at first, but food was awesome, prices were terrific and service was good.
How to get there: if you're coming from Manila, ride a jeep to Pasig (the Pasig-Quiapo jeep from Legarda) to BPI-Kapitolyo. The bank is just outside a gated barangay. Go inside that gate and take an immediate right on the first street you see (San Rafael). Then, take a left on the first street you see again. It's just a small walk, really.
If you're coming from anywhere else, haha sorry I have no clue. The Pasig-Quiapo jeep passes by Shaw, though so from MRT-Shaw, you can take that. You can also walk to there but it is not a very advisable to do unless you want to die.
——
THE MARUYA STORY
I once mentioned to my friends that I HATE Maruya and everyone went crazy
I: gusto mo ng maruya?
A: no, ayaw ko talaga sa maruya. Kadiri kasi
J, I, A and M: whaaaaat?
A: Kadiri kaya!
J: bakit?
A: Ang oily kasi! Pag kinakain ko sya, nalalasahan ko yung oil, nakakadiri.
J: so hindi ka kumakain ng fries?
A: kumakain!
J: eh ganon din yun, binababad sa oil!
Hahahhaha sa maruya lang talaga ako may issues, sorry.