Nails
When I was still wealthy (meaning, when my life had no direction yet and I would spend most of my money on things that do not make sense), I would come to a nail salon at least once – sometimes, twice – a month (and not those nail salons which would murder your nails ha. The fancy ones.) because back then the only vanity I had were my feet and my hair.
Foot spa was my escape, my reward to myself. Eventually I realize that spending much money on nails which would eventually grow out was kindov a waste. May I just say that I spent 600-1000 bucks for a spa session. The 600-1000 right now for me is totally precious.
It was my escape. My reward to myself.
Fast forward to today (I no longer go to the spa at least once a month): my feet look ugly.
Thanks to Ensogo, I was able to buy three 75-minute Foot Spa + Foot Scrub + Foot Reflex + Callus Removal + Pedicure with Upgraded Polish for P249 each (valued at P610 each). I bought two for me, and one for Mikay.
The first time I was there, I was with Mikay but never got to take notice of the whole place because of a slight case of annoyance (see the below – spoiler, it's not about Nail Files. Well, not really).
I returned there today because my voucher will expire next, next week already.
Nail Files in Tomas Morato is located beside Octoboy, on the 2nd floor of the building next to Kopiroti. If I remember it well, it is in front of Tokyo Bubble Tea, which is a block away from Jollibee.
It's on the 2nd floor of the building where my once-favorite Grilled Tomato was. It WAS my favorite, because they're no longer there and I don't know where to find then anymore. Damn it, Grilled Tomato! Where are you, my love?!
(The once-Grilled Tomato is now replaced with Something Something Burger Something. Sorry, forgot the name.)
– The first thing I noticed when I entered the establishment was the smell. Peppermint-ish. I absolutely loved it. I might be biased, though, since peppermint is among my favorite scents. It was as if you just want to sleep and slouch back and whatever.
– The establishment is small. But not SUPER CROWDED small. Just-about-the-enough-amount-of-cozy small.
– This is the 'spa area'. Sorry about the non-enticing picture quality. I swear it is more endearing in real life: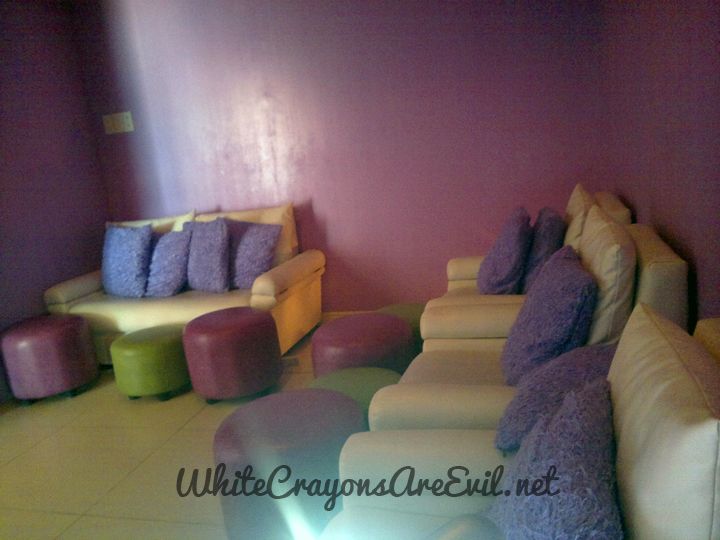 – I loved how they did my nails. Very thorough, even though I was using an Ensogo voucher (I read in other blogs about how other establishments do not pay that much attention to Ensogo voucher holders because, hey, you get what you pay for, homie).
My feet and toe nails are really challenging since I walk a lot and my feet are ugly and yadah yadah. Inferness ke ate, she really did well cleaning my toe nails. She really took her time.
– Wide variety of nail polish color.
– I mean, a lot.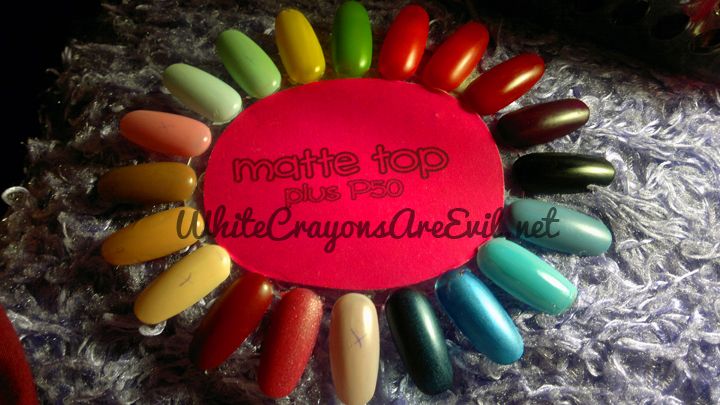 – and super adorbs nail art.
– since the space was tiny, if a group of friends came at the same time as you did, and they just won't shut up, you'll never find your zen. The room becomes extremely loud (because of the tiny space). The first time I was there with Mikay, a bunch of girls were there (to be fair, they where there first), and they're saying these stupid stuff as if they were trying to impress one another. It was utterly annoying.
– So I was lucky when I went there today and I have the whole place to myself. Favorite 'me time' ever yet! The sleepy ambiance plus the peppermint scent, plus the super light hand of the Miss doing my nails = simple pleasure.
– The 75-minute foot spa was just a 75-minute soak on those foot spa machine available in Watsons.
– I loved the scrub, though. I thought ate's hand was very light. I just hope it lasted longer.
– I wish they'd offer some drink, like tea. It would totally go with the ambiance.
– Right now, I think the Php 610 original price's a little high, but I realize it's just right. I think it's high because I am super poor right now. It's just about the same price I WAS willing to pay for that kind of service.
Come to think of a it, it was cheaper than what I paid for one of my fav mall spa. The mall spa is more accessible, though.
So yeah, if ever I'm in the mood to 'reward myself', I'll seriously consider Nail Files, even without the voucher 🙂
And here are my pretty feet. Drum roll please
I was supposed to choose my favorite bloody red, but hey… SUMMER!
Nail Files Tomas Morato Branch
186 2/F Tomas Morato Cor. Sct. De Guia Street, Quezon City
0933-1612255
Open from Mondays to Sundays: 10am to 12mn
You can text them for services prices. They are very accommodating in text 🙂