Beauty
,
Hair
,
Skincare
Those who know me will probably laugh at this: I'm a closeted Kikay. Haha. okay, laugh all you want. Go on.
Done? Good.
I recently found out about the BDJ Box, a sort of a beauty box. Well, it IS a beauty box. It contains some hot beauty items in "try-out" sizes. And you KNOW you can trust these items because they are hand-picked by experts. Also, they have, like, a quiz to find out about your skin and hair types and skin tones, so you KNOW they are not just putting in some random stuff in there. They are making a box just for you.
So the idea appealed to me. One of my Silver Birthday resolutions (It's like a New Year's Resolution, only, it's for my birthday. Hello, my name is Capt. Obvious) is to be more, err, girly. Well, I just want to leave behind the younger me full of rock and roll and heavy dark everything. It has become too exhausting for me.
If you ask me, the whole idea of the BDJBox is pretty clever. I spend a pretty large amount of moolah on beauty stuff (mostly lipsticks. HA!) anyway so the box would help me, err, discover some other products I may not try in real life (since I just buy lipsticks. HA!).
Also, the most fun part of it, I think, it they they will not inform you what the box contains. It's like a beautiful surprise – or "beautify" surprise! Word play. Since I love receiving packages, this is perfect for me! Monthly packages, win!
So I ordered a subscription of the box. There are a lot of options actually. You can choose for a month, three months,six months and one year.
I availed of the per month recurring charges via Paypal.
The package arrived a day after I started my subscription, which was both surprising and delightful. I thought I will be counted for the next month pa. Imagine my happiness when I came home and there my box was, waiting for me with much gusto (of course I don't know that since it's an inanimate object. But I would love to assume).
Here's my unboxing of the box.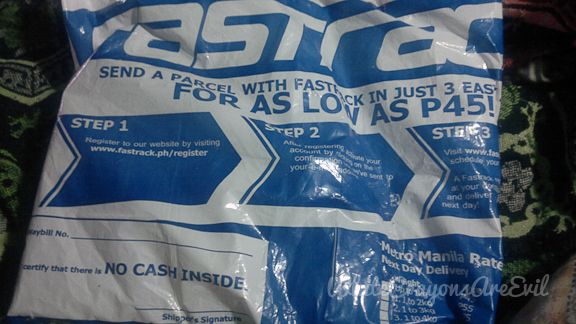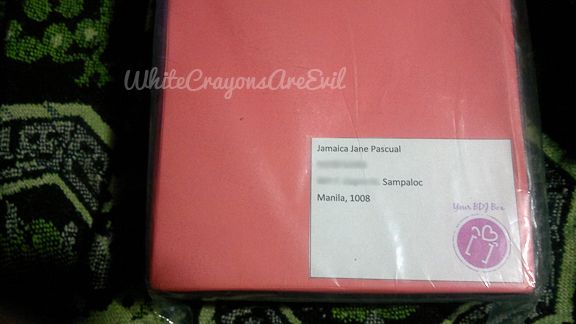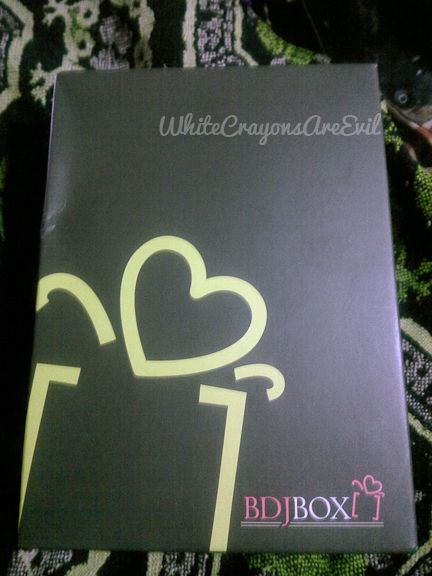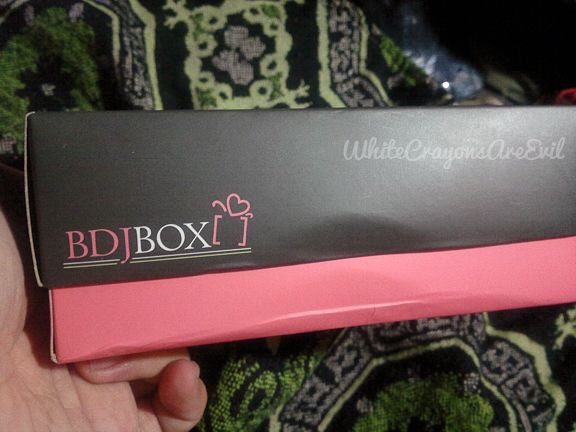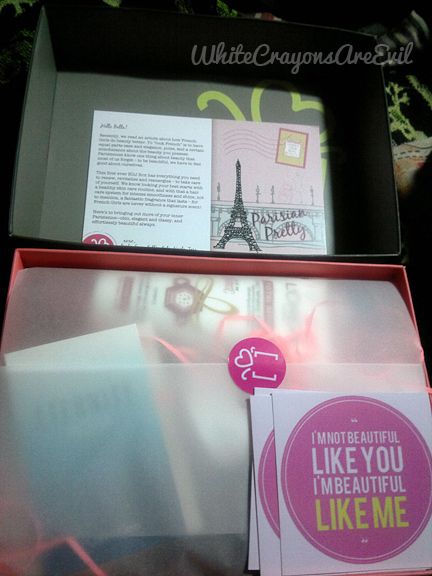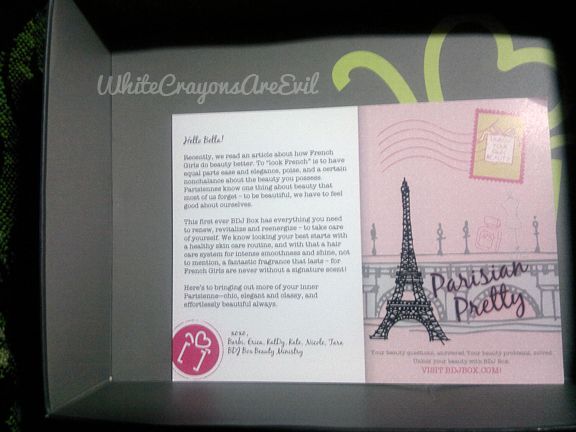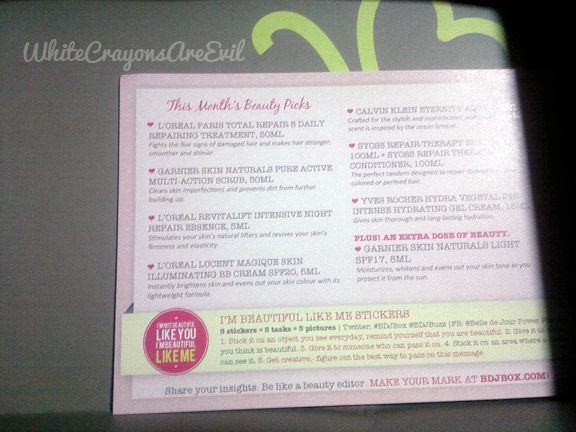 Here's a run down of what MY box includes:
Skin care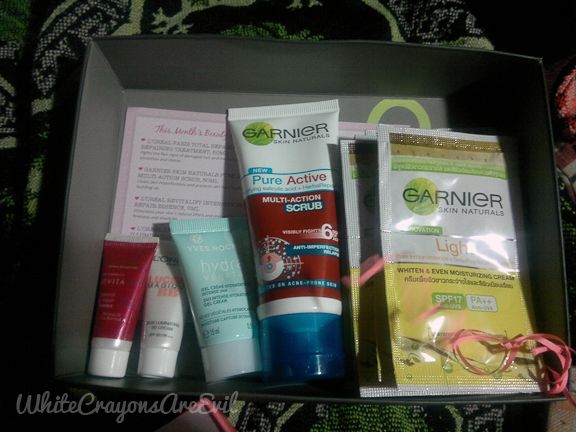 Hair care

per-fum <3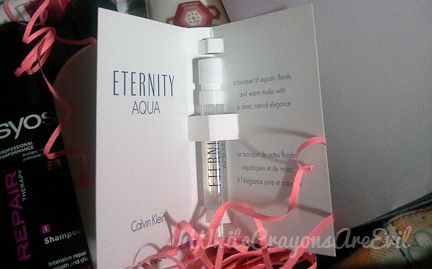 L'oreal Paris Total Repair 5 Daily Repairing Treatment, 50ML
Fights the five signs of damaged hair and make hair stronger, smoother and shinier
Garnier Skin Naturals Pure Active Multi-Action Scrub, 50ML
Clears skin imperfections and prevents dirt from further building up
L'oreal Revitalift Intensive Night Repair Essence, 5ML
Stimulates your skin's natural lifters and revives your skin's firmness and elasticity
L'oreal Lucent Magique Skin Illuminating BB Cream SPF20, 5ML
Instantly brightens skin and evens out your skin colour with its lightweight formula.
Calvin Klein Eternity Aqua, 1.2ML
Crafted for the stylish and sophisticated woman, this modern scent is inspired by the ocean breeze
SYOSS Repair Therapy Shampoo, 100ML
SYOSS Repair Therapy Conditioner, 100ML
The perfect tandem designed to repair damaged, stressed, colored or permed hair
Yves Rocher Hydra Vegetal 24H Intense Hydrating Gel Cream, 15mL
Gives skin thorough and long-lasting hydration.
BONUS!
8 pieces of Garnier Skin Naturals Light SPF17, 8ML each
Moisturizes, whitens and evens out your skin tone as you protect it from the sun
BOX REVIEW:
What I first noticed was its smell. It smelled soooo good. I traced the scent and it was one of the hair products. I am now tracking down where to buy the shampoo.
Anyway, I'm excited to try them all! But since some are in very small quantities, I might just use them on special occasions like on nights out or on dates.
The box is super awesome, it's like a personalized kikay kit which was shopped by people who knew these beauty stuff. It felt like that it's a genuine effort to help Filipinas and newbies like me when it comes to serious beautification and skin/hair care. I am so glad of the existence of the box.
(also, the color of the box makes me so happy. Yes, color palettes can do that to me now. The grey-ish-pink-light green colors of the thing makes me want to sing a happy song. No, seriously!)
Suggestion: I think it would be awesome if the BDJ people will also add "Where can I buy these stuff?". Specifically, the shampoo. hihi.
Also, cosmetics! 🙂
BTW, the BDJ box is brought to us by the same team who gave us Belle de Jour Power Planner (which is where the 'BDJ' came from – that info is brought to you by Sherlock Holmes).
I am currently using a BDJ planner and I just bought my 2013 last week. I LOVE BDJ Planners so much – and I can't stress this enough! I think the only time I didn't use BDJ (since I discovered the beauty) was in 2011, because I used the 2011 Thomasian planner then. Anyway, my BDJ planner is my lifesaver this year – again, I can't stress that enough.
Want your own box? Visit BDJBox.com for the details. The box costs Php 480. Not bad. Not bad at all. Some of these products cost a lot when you buy them yourself in department stores, so Php 480 is really a steal! But you might say that some of the products are in very small quantities. Just look at it this way – the Box allows you to try them first before purchase. And for Php 480, that's not really not bad-a-deal.
I'm so excited for 2013 and more of the BDJBox! Kisses, Bellas! hihi xoxo 🙂
PS. I should really consider signing out "Xoxo, Aika". Paris Hilton ang peg.