Technology
I finally decided to name my new baby Kindle Paperwhite "Rigsby" after one of the characters in the TV show The Mentalist.
I will not be reviewing the e-reader just yet, but I would like to share what I am planning to dress my baby with.
TADAH!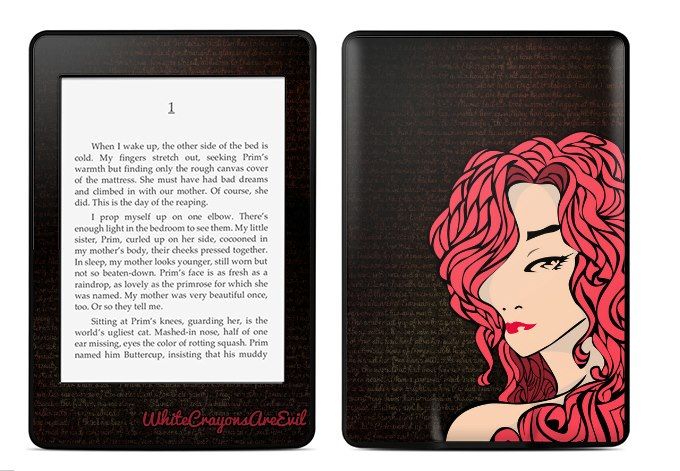 I made Paeng's silver girl into a redhead. I did this a LONG time ago, but since I lost the original PSD file, I have to re-do it. I then turned this pretty lady into a decal. Of course this is not the original unit, but a look of what hopefully my baby would look like.
The text on the background is actually excerpts from one of my most favorite prose ever, Dean Alfar's L'Aquilone du Estrellas (The Kite of Stars). It's a pity the text is not really readable, but it's only fitting I envelope my Kindle with Alfar's magical words. You can grab his book if you wanna read the short story. Totally worth it.
Anyway, I actually already placed the order earlier today, and I am expecting it to arrive here in Manila, Philippines in early December. *crossed finger*
I ordered from DecalGirl.com, which can create decals which are compatible with a wide range of gadgets (phones, laptops, tablets, readers, even game consoles, I think). Their designs are wider in range. There were a couple of designs I was choosing from but I though that I want my baby Rigsby to be ULTRA unique, so I made the redhead lady into a decal. I wanted nga Alex Trese, but I would have to ask pa a permission from Budjette and Kajo, I think.
So yeah, I bet my baby's going to be awesome. Proud mama here 🙂
I will update you guys how it'll turn out 🙂
Update: CLICK! It's here!