Food
,
Korean Food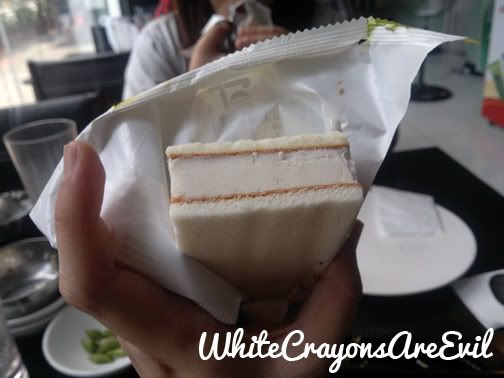 Confession: I don't know much about my place. And by "my place", I meant "Sampaloc". And when I said "about" I meant "place to eat". Sorry.
If you ask me to take you out to dinner or lunch near from where I live, I'll probably take you to the nearest tapsilogan I know – which, let's face it, is not ideal for a date (because I'm a social climber like that).
Anyway, Mikay and I were supposed to meet up yesterday because I have to pay her for the Cebu Pac plane tickets, but I told her I don't want to go anywhere far my house since I am coughing like crazy, and I want to rest for the weekend.
So we settled by having lunch near my turf.
Turned out, there's this Korean food place in St.Thomas Square in Espana Blvd. here in Sampaloc, Manila. I know of St. Thomas Square, it's just that I don't go there very often. It is very near UST and FEU and a walking distance from UE. And I was surprised to know that there's an ACTUAL korean resto from where I live.
Anyway, we went there at past 12pm, i think. and the place was empty except for a couple of girls. I thought "it's Sunday", so I figure maybe because there are no classes that's why the place was near-empty.
I was in a Vietnamese mode, so all I think about in the last week was Pho and baguette, so reading the menu of Seoulia was different… I wasn't ready for it. Usually, when Mikay and I eat on a new place, we'll research very well what to eat. This was not the case.
Good thing I was pretty obsessed with this Korean show, 1 Night 2 Days, so I had a fair memory of some popular Korean food.
Ate the waitress brought first some complimentary side dishes, which didn't help much, but they were really nice to nibble on. We didn't know what to do with them (see? not really a fan of Korean food).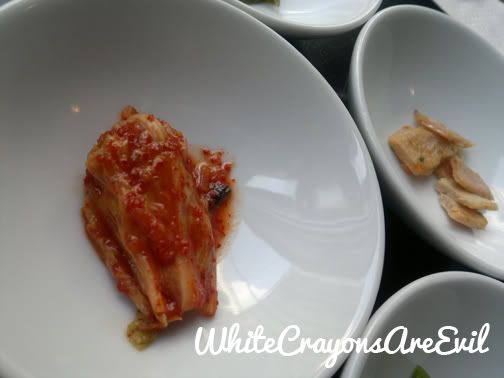 I ordered Beef Bulgogi (Php 180) and Mikay tasted the Chicken Bulgogi – herb (Php160). Then we ordered a Kimbap (Php 100) and split it since there were, I think, 10-12 pieces of it.
Both the Bulgogi came with rice
I LOVE my Beef Bulgogi. I don't know much about Korean food, but I love sweet food, and this Beef Bulgogi had the right amount of sweet to make me happy. Plus the serving was pretty huge, so the plate will prolly be good for two people (who are not THAT hungry. At that time, Mikay and I were both VERY hungry and I am just making an excuse right now).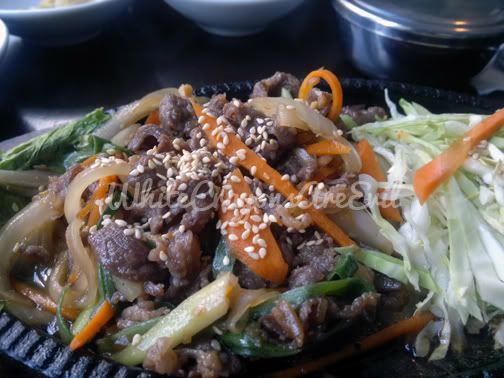 The Chicken Bulgogi (I had to taste it! hehe), was ok, but I liked the beef more.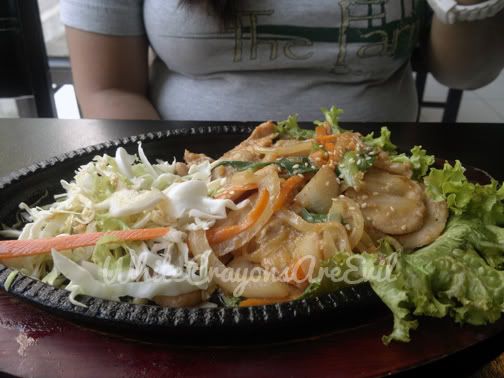 The Kimbap was ok, I guess. I really loved the maki we ate at Omakase, so that pretty much raised a bar. I don't know the difference between the Korean and Japanese version though. Silly me.
Although, I would prolly be going back here for their kimbap if ever I crave for a sticky rice meal because it was better than what I expected it to be, considering the price.
We also had a korean ice cream sandwich, Pangtoa. It's a chiffon cake with ice cream. I got the cheese cake flavor and Mikay got the chocolate. I can't speak for MIkay, but I absolutely adorded mine! It's like inipit, but 1000x more awesome because of the icecream 😀 cost Php 50 each 🙂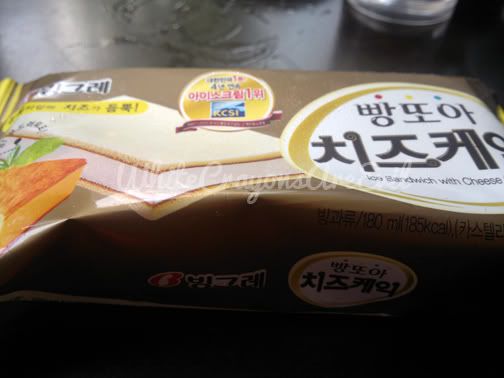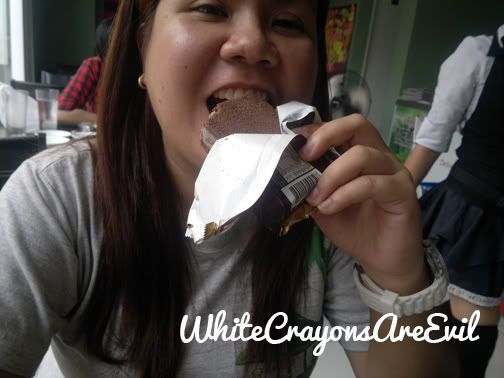 It's pretty, um, comforting that there's a decent Korean restaurant from where I live. There's a 100% chance I'm going back there for a quick Bulgogi fiesta, or to take home them Kimbap or lovely ice cream. So,if you're in the area and tired of those fast food chuva, try Seoulia for something oriental.
[also, the resto seats next to Moon Leaf milk tea shop. I love their Wintermelon milk tea SOOOOO much!]
Seoulia
St. Thomas Square, Espana Blvd, Manila